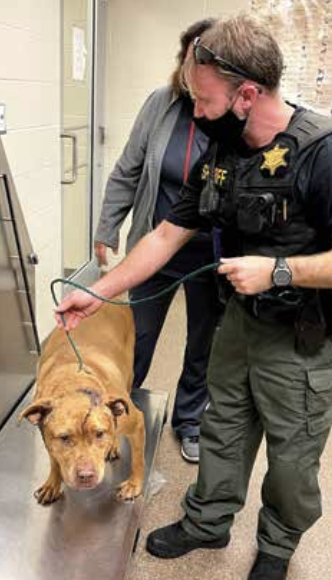 By ALDWIN ROMAN, CAWA
CHARLESTON ANIMAL SOCIETY VICE PRESIDENT OF OPERATIONS AND STRATEGY
Adog is shot multiple times and killed by its owner. Ten days later, police say two individuals impersonating animal control officers arrived armed at a family home and steal a mom dog and her four puppies.
Ten days after that, a car slows down on the highway, the passenger door opens, and a dog is shoved out onto the side of the road. Two weeks later, a dog is stabbed and beaten when caught in the middle of a domestic dispute.
In a month's time earlier this year, eight animals suffered abuse. One lost its life, five are missing, and two had to find new homes. The only thing more frustrating than the wide variety of ways animals are abused is the constant presence of this abuse. And sometimes the scale of the abuse is what's overwhelming.
Four months later, the largest animal cruelty bust in South Carolina history, 400 animals, takes place in Laurens County. Charleston Animal Society was called into action to help with the overwhelming situation.
RIPPLE EFFECTS OF CRUELTY
All of these animal crimes are disturbing for the animals they effect but even more disturbing for their impact on the community. Animal cruelty isn't just bad for the animals, it's bad for the neighborhood.
For the dog that was shot and killed, his owner wasn't just arrested for animal cruelty but also for other weapons charges.
In the case of the stolen dog and her four puppies, five individuals were later arrested and charged with criminal conspiracy, including a local firefighter.
Those involved in the large case in Laurens County were arrested not only for animal cruelty but also for trafficking narcotics.
FIGHT CRUELTY AND SAVE COMMUNITIES
Eliminating animal cruelty is a lofty goal and we can start by acknowledging its more than just about the animals. Fighting for justice for animals or lobbying for animal protection laws isn't just about the animals, it's also about our communities.
Those who commit violence towards animals are more likely to go on to do the same towards people. The research supports this theory. Combating animal cruelty is about facing animal cruelty and other forms of violence that affect our lives.
DIFFERENT PATHS IN FIGHTING CRUELTY
Fighting animal abuse isn't easy. The victims can't speak. And the victims are often the evidence. To do my part in this fight I sought out all the training I could find on investigating animal abuse.
In June, I became one of the first Master Animal Cruelty Investigators in the country after completing advanced animal cruelty investigation training over a three-year period. This along with my Humane Animal Investigator Certification makes me one of the most highly trained animal cruelty investigators in the state. That's the route I chose to fight cruelty.
However, it doesn't take years of training for someone to get involved in fighting animal cruelty. It's as easy as keeping your eyes open. If you see something, report it. If you can do so safely, record video of what you see with your smartphone. This kind of evidence can make a case. And if an animal is in danger, call 911 to get help.
Support organizations that are fighting cruelty. If you can't be there, your donations can help send people who can.
Finally, educate your friends and family about the existence of animal cruelty and give them ideas on ways to also get involved.