BY JOE ELMORE, CHARLESTON ANIMAL SOCIETY PRESIDENT & CEO PHOTOS: JEANNE TAYLOR/JTPETPICS.COM
Animal welfare has progressed by leaps and bounds in
America over the past 50 years. For example, according to
PetSmart Charities, in 1970, there was an estimated 17,000,000 dogs and cats euthanized; in 2017, there was an estimated 1,500,000. In 1986, only 4 states had felony provisions for animal cruelty; now, all 50 states have felony provisions. Yet, the single most challenging issue for animal welfare today is the proliferation of pit bull types of dogs due to reckless breeding, making them the most at-risk dog for euthanasia.
All South Carolinians should support Representative Chip Huggins' Bill (H.3709) and urge their local Representatives to co- sponsor the bill. The intended impact of the bill is to save thousands of pit bull types of dogs overwhelming animal shelters across South Carolina by reducing their population. No other dog breed or grouping of breeds poses the overcrowding problem for animal shelters as does pit bull type of dogs. It is critically important to distinguish this strategy as reducing the overpopulation, not advocating for a breed ban, which we all vehemently oppose.
For these reasons, Pawmetto Lifeline along with Charleston Animal Society and other public animal shelters are supporting H.3709 in an effort to protect the breed.
"There is no way we can adopt all the pit bulls in our shelters nor can we transport them to shelters in other states because they, too, have issues with their local pit bull population," said Pawmetto Lifeline Executive Director Denise Wilkinison. "We can no longer stand aside and watch these beautiful dogs die on a daily basis in our municipal shelters when every other breed can and will be adopted."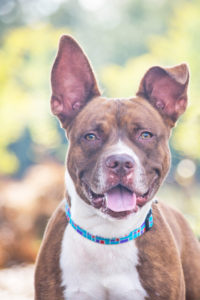 The Need for H.3709
The "Pit Bull" is probably the most misunderstood and controversial dog in America. Pit Bull is not a recognized breed by the American Kennel Club, nor is it a breed identifiable by Wisdom Panel, the world's leading DNA test for dogs, which detects over 350 breeds. According to the American Society for the Prevention of Cruelty to Animals (ASPCA), the first and oldest animal organization in the Western Hemisphere, today's pit bull is a descendant of the original English bull-baiting dog – a dog that was bred to bite and hold bulls, bears and other large animals around the face and head. When baiting large animals was outlawed in the 1800s, people turned instead to fighting their dogs against each other. These larger, slower bull-baiting dogs were crossed with smaller, quicker terriers to produce a more agile and athletic dog for fighting other dogs.
The ASPCA further states It is likely that the vast majority of pit bull type dogs in our communities today are the result of random breeding—two dogs being mated without regard to the behavioral traits being passed on to their offspring. The result of random breeding is a population of dogs with a wide range of behavioral predispositions. For this reason, it is important to evaluate and treat each dog, no matter its breed, as an individual.
Similar Legislation Already Working
Numerous communities across the nation have enacted this type of public policy. Traditionally, there are three reasons communities desire these laws: (1) Overpopulation leading to euthanasia, (2) Dog fighting and (3) Capacity to harm humans. In all three areas, the pit bull type of dog is disproportionately impacted. Make no mistake about it, pit bull types of dogs may be the most congenial and adorable family companion in existence; there are just far too many of them!
"Spaying and neutering the pit bull is the ONLY way to protect this breed," Wilkinson said. "H.3709 legislation will save thousands of lives and millions of dollars that are currently being used to house, feed and kill the majority of the pit bulls in our SC municipal shelters."
While many animal advocates disagree on what is commonly referred to as "breed specific legislation," those of us on the front lines in animal control or open-admission (don't turn animals away) shelters overwhelmingly support this legislation. Again, it is not a ban on these dogs; it is a lifesaving strategy to save them.
How the Law Would Work
The essence of the bill is to require those owners who choose not to spay or neuter their pit bull type of dog to register and pay an annual fee of $500, which would be directed to underwrite spay and neuter procedures for those pet owners who elect the procedure for their dogs. Dogs who are spayed or neutered would not need to be registered.
In fact, a typical pit bull type of dog who has not been spayed may reasonably have two litters of 7 to 10 puppies, reselling for $200 each. This makes the registration fee nominal. It is important to note that most, if not all, of the sales of these puppies avoid payment of sales tax.
Funding sources have been identified to remove any financial hardship for the owners of pit bull type of dogs, thus it will not disproportionately affect any general category of their owners. Of course, as with most animal laws, there are exclusions for training, hunting, showing, etc.
"The pit bull is the canine breed in our state and nationwide that continues to be preyed upon and is truly a victim. They are dying at the highest rate in our municipal shelters," Wilkinson said. "It is a proven fact that when left unaltered, under-socialized and untrained and they bite, the pit bull does more damage than any other breed in health care cost."
Charleston Animal Society has been conducting outreach services to the community for upward of 40 years. No other animal organization in the state comes close to the comprehensive outreach efforts of the Animal Society, yet it is still overwhelmed year-round primarily by pit bull type of dogs.
It is time to marry public policy with outreach to save this incredible dog.