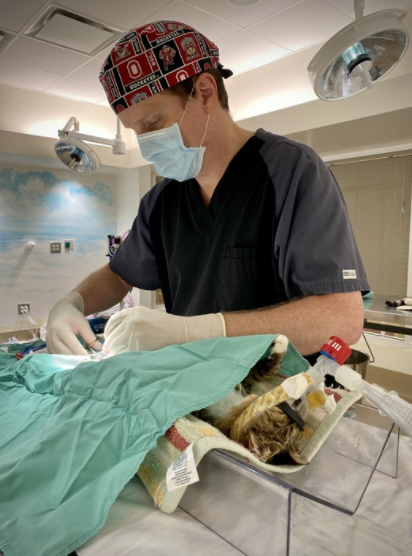 By Denise Wilkinson, Pawmetto Lifeline CEO
Shelters, private clinics, and emergency clinics are in a statewide crisis due to the national and state veterinarian shortage that is paralyzing the veterinary medical field.
It is impacting every level of care from basic vaccinations to the more critical needs at the emergency clinics.
The shortage has hit South Carolina especially hard. The Palmetto State ranks 46th out of 50 states in the number of veterinarians per thousand people in population.
SHELTERS HIT HARD
Animal shelters are in crisis in South Carolina because they are overcrowded with animals. Of the 75 shelters in South Carolina, 49 have no vets on staff to assist with the medical needs of the animals, which means thousands of homeless pets across our state are going without care.
Another ripple effect of the shortage is a backlog of animals that could be adopted but can't because they have not been spayed or neutered. Under state law, animals cannot be adopted without being spayed or neutered. With a shortage of vets, it's getting more and more difficult to get these surgeries accomplished.
Animals who would normally be receiving vaccines are also at risk of not receiving this protection from diseases like rabies and parvo that are easily spread and pose a public health risk.
EMERGENCY CLINIC IMPACTS
Emergency clinics all over the country are overwhelmed. The wait time at some emergency clinics around the state can be four to six hours but could be as much as 12 hours!
At times, the ERs simply must close their doors and cease taking patients to provide the standard of care that is promised to every pet. Internal Medicine and Cardiology services are booked out for three to four months. The crisis means that pets will go without preventative or immediate care. Many pets will die even though their families are willing to provide care for them.
UNPRECEDENTED TIMES
These are unprecedented times for the veterinary field. The shortage for veterinarians is intense with a high burnout rate, which will only make things worse.
Is it time to look at our state laws to deal with this issue? The current statutes in South Carolina that relate to medical care for animals are stricter than the statutes for medical care for humans, but pets are still considered property in our state.
A pharmacy tech can give a human a COVID-19 vaccination without a doctor present, but a vet tech cannot give a pet a vaccination without a vet first seeing the pet before the vaccination is given.
I also find it ironic that a kennel worker or an animal control officer can draw up a lethal drug in SC and end the life of a dog or cat without a vet present, yet we require a vet-client-pet relationship for all medical services for pets, including vaccinations.
The chances of a pet having a reaction to a vaccine is minimal, yet the chances of a pet that is not vaccinated getting rabies, distemper or parvo can be high, and most often it is fatal. Once pets are no longer vaccinated, we run the risk of a public health crisis.
LET'S FIND SOLUTIONS
We need our Governor or the LLR Board of Veterinary Medical Examiners to embrace an emergency regulation to allow certified and trained vaccinators for animals.
We need to empower Licensed Veterinary Technicians and unlicensed veterinary aides to be able to perform more services under the indirect supervision of a veterinarian.
We need to embrace telemedicine opportunities as is already done in the human health care field. There is no reason why we can't replicate the medical model for humans to ensure access to care for animals.
We can work on long-term solutions through legislation or the creation of a South Carolina veterinary school.
While long-term solutions are admirable, we need immediate action for this veterinarian shortage crisis. By not responding now with a temporary solution, we will continue to see and experience terrible outcomes for our pets, including the closing of clinics, the euthanizations of healthy animals, and the risk of a public health crisis including rabies and parvo.
Contact your local lawmaker and tell them we need action on this issue right now.