No matter how much we love our pets, there's always the chance they will run into a legal situation – which is why Attorney David Aylor answers your legal questions involving animals each issue.
QUESTION: During a hurricane evacuation, can hotels refuse to take my pet even when I am willing to pay for him? –Irene, Mt. Pleasant
DAVID AYLOR: Irene, I'm sorry to be the bearer of bad news but according to the South Carolina Emergency Management Division, the state of South Carolina does not have a law that requires hotels to allow pets during a disaster, such as a hurricane evacuation. My best suggestion is to have a plan prepared in case there is an evacuation, which includes knowing which hotels in the area are pet friendly, you'd be surprised how many will allow pets.
On another note, Gov. Henry McMaster said in early June that he expects to call evacuation orders earlier than normal if a storm approaches, due to issues involving COVID-19.
QUESTION: I'm in a complicated situation. My sister and I live together. I have one cat. She has three cats and four dogs and wants to add another. I am already worried we are going to be cited for too many animals and she is refusing to put any of them up for adoption. If we get a ticket, it will be in my name since I am the homeowner. Do I have any legal options to deal with this?
–Kristen, North Charleston
DAVID AYLOR: It depends on what kind of relationship you and your sister have when it comes to your home. If it is a landlord-tenant relationship, it would be wise for you to construct a leasing agreement that includes a pet agreement. The pet agreement should address your concerns and limitations. It could limit the number of pets you will allow in your home based on the property size. Your municipality's ordinances should be included in the agreement. Bottom line is: if the home is solely in your name then, yes, the ticket would be in your name only, regardless of who the pet owners actually were within the residence.
QUESTION: I was unable to afford my dog's vet bill and agreed to sign him over to them. Now I regret it, and when I called a few days later, I was told he was already being neutered and would be placed with a rescue. Do I have any way to get him back?
–Regrets in Edisto
DAVID AYLOR: According to South Carolina Law, section 47-3-75 (A), "An animal delivered to a veterinarian, a dog kennel, a cat kennel,
an animal hospital, another animal care facility, or to a person who boards domestic animals on the person's premises for a fee may be transferred to an appropriate animal shelter ten days after the date the owner failed to pick up the animal as agreed to pursuant to a written contract or agreement. The animal may be transferred only if the written contract or agreement provides for the transfer and if an attempt is made to notify the owner by regular mail and by certified mail at the owner's last known address on the date the owner failed to pick up the animal as agreed."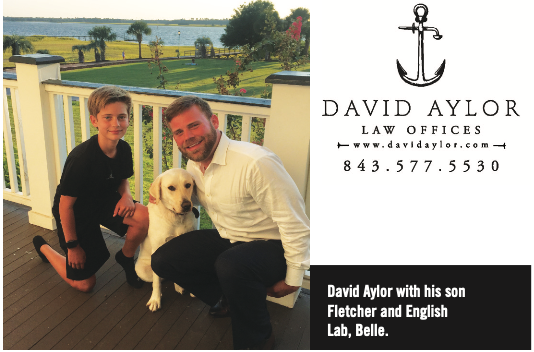 With the case at hand, you willingly signed the dog over to the vet since you could not pay the dog's vet fees. Therefore, it is unlikely you will be able to get the dog back from the veterinarian due to your consent in giving the dog up. One possible course of action would be to contact the rescue after the dog has been neutered and see what can be done from that point as to adoption.