Disaster response to Mississippi shelter came just hours before storm hit coast.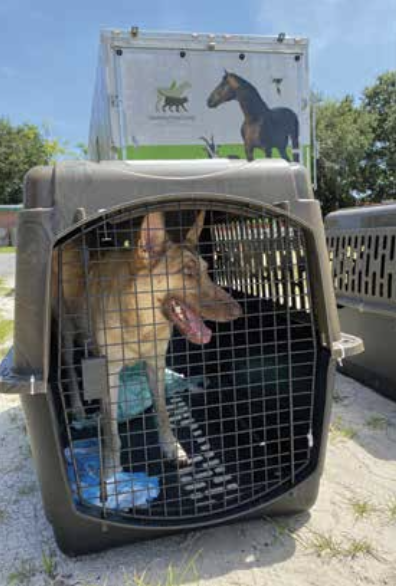 As Hurricane Ida approached the Gulf Coast from the South, a Charleston Animal Society Disaster Response Team was heading to the area from the North. In one of the last pet evacuations before the hurricane hit, Charleston Animal Society rescued 50 dogs from the path of the storm at the Humane Society of South Mississippi in Gulfport.
"We were flooded with calls for help and thanks to our supporters, we have the capacity to help, so we did," said Charleston Animal Society Emergency Response & Preparedness Manager Bryant Taylor. "We made it to Gulfport around midnight, 12 hours before the storm hit and we delivered 2,000 lbs. of dog and cat food into the community for post-storm recovery."
The team, made up of Taylor and Charleston Animal Society's Patrick Allen were able to safely load animals into the shelter's disaster response truck to bring them out of harm's way. In a Facebook post after the storm, the Mississippi shelter wrote: "There is never a lot of preparation time before a major storm threat is upon us, so their rapid responsiveness and ability to make arrangements to accept and transport these pets was truly remarkable. Our deepest gratitude goes out to each and every one of you."
From Mississippi, the dogs were then taken to partner shelters in Florida, who also pitched in to help. The Disaster Response Team logged 1,746 miles on this deployment. The dogs were taken to these Florida shelters:
Pasco County Animal Services
Land O' Lakes, FL

Halifax Humane Society
Daytona Beach, FL

JacksonvilleHumaneSociety
Jacksonville, FL
SPCA Tampa Bay
Largo, FL

Humane Society of Tampa Bay
Tampa, FL
As a leading disaster response organization in the South, Charleston Animal Society has built relationships with numerous shelters around the Southeast.
"It is this kind of teamwork between shelters that will help us save countless animal lives when hurricanes approach," said Charleston Animal Society President and CEO Joe Elmore, CAWA, CFRE. "We continue to receive calls for assistance from the Gulf Coast States and we are evaluating how our Disaster Response Team can continue to help."
DISASTER RESPONSE TEAM
So far this year, the Disaster Response Team has deployed 13 times (and counting), helping rescue animals around the Southeast and the U.S. Virgin Islands. As the islands continue to recover from a hit by three hurricanes in 2018, shelters there are still in desperate need of assistance. Animals are relayed to Miami, where Charleston Animal Society picks them up and transports them to shelters with space to adopt them.
In July, when Hurricane Elsa threatened Florida, the team went to Suwanee, FL and rescued 10 dogs just before Hurricane Elsa made landfall.
It's not always storms this team is chasing. The Disaster Response Team will roll to help fight cruelty, as with the largest cruelty bust in the history of South Carolina in Laurens County. Over 400 animals needed help in the rescue operation, including dogs, horses and various farm animals. All were seized by law enforcement. 23 dogs were transported to Charleston Animal Society for emergency medical care by the shelter's veterinarians and animal care staff.
The team also assists with animal transports when shelters become critically overloaded. "We work closely with the No Kill South Carolina 2024 team to move animals as we can from crowded shelters to less crowded shelters" Taylor said. "We have also teamed up with the Massachusetts SPCA, who have agreed to take animals from South Carolina."
If you would like to join and learn more about the team, go to CharlestonAnimalSociety.org/Disaster- Animal-Response-Team. While previous emergency response experience is great, it's not required. The team is looking for volunteers who are flexible, compassionate and can remain calm during high-stress situations.