This year, Crews Subaru and Charleston Animal Society will celebrate 15 years of an incredible partnership that has helped save thousands of animals. One of the dealership's first-ever vehicle deliveries was in August of 2019, and was a wrapped van for Kay Hyman, Director of Community Engagement. And while that got the ball rolling, owner Robert Crews has had a love of dogs for far longer than he's owned the car dealership and has continued to share that love with so many others.
"I've had a dog all my life," Robert said, his voice reflecting the smile on his face. "You can't not smile when you have a pet." Robert and his wife Kelley currently have two Cavalier King Charles Spaniels that keep them active around the house and provide companionship and an added layer of fun during their travels. Honey and Bo are both around three years old, having been adopted as puppies during the pandemic. Early on in 2020, the Crews' beloved dog Ginger passed away, leaving a dog-sized hole in their home and hearts.
"Every time you looked at the door and didn't see her nose, it was just a void," Robert said. So, in June of 2020, they adopted Honey, followed by Bo just months later in August.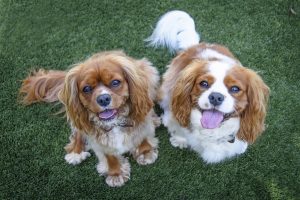 Robert noted that while the puppy phase was entertaining, both dogs have settled into their personalities. They love making friends near their home in downtown Charleston and traveling to Asheville with Kelley. He said that Honey loves to keep up with everything, following people around, while Bo much prefers to be fed, scratched, or napping. 
ADOPTING "THE KIDS"
Although Robert always had a dog growing up, that was not Kelley's experience. After their fourth child, they adopted a puppy – something Robert said the kids may have talked Kelley into. It didn't take long for her to embrace all that dog ownership involves, especially the joy that they are able to give and receive. Both Robert and Kelley have even taken to calling Honey and Bo "the kids."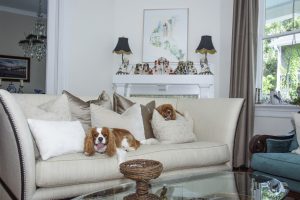 "They got us through the pandemic, they would come to work with us every Wednesday," Robert explained. "The pet events we have put a smile on people's faces. It's fit to have a company like Subaru that truly understands the pet-human connection." 
Even Ken French, Marketing & Events Guy at Crews Subaru, feels the joy Honey and Bo bring to work. 
"They sure like me at work, they're like the greeting committee," Ken said. "You have to smile when you see them–it's good energy! We almost always have a dog or two in the showroom, or in the service area while people are waiting."
GIVING BACK
Giving people a positive pet experience extends beyond their showroom too. Robert and Kelley have a deep commitment to giving back to their community, simply because they believe it's the right thing to do. In 2021, Crews Subaru was awarded the Subaru Love Promise Retailer of the Year, the highest honor a dealership can receive that commemorates their commitment in action. While Crews Subaru is a dedicated supporter of Charleston Animal Society, their generosity has also extended support to other organizations for pets and people alike, such as Hallie Hill, Shawn Jenkins Children's Hospital, Lowcountry Food Bank, and Make-A-Wish Foundation to name only a few. 
"We did a Make-A-Wish event about six weeks ago. It was a fly-fishing event for a young boy, but he spent a lot of the time rolling around and playing with the dogs," Robert shared. Ken explained that Crews Subaru sponsors about four wishes a year, always in the showroom, something that makes the whole team better. He added that for this wish, Robert even got down on all fours to play with the young boy and Honey and Bo, making for a sweet moment.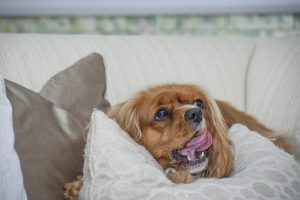 \"It simply makes life better. Once you feel that unconditional love, everything is worth it," Ken said. He and Robert both agree that making a dog's day, helping a dog get the right home, it's the right thing to do. It's only fitting for Robert to work with Subaru because they understand the human-pet connection and give him the opportunity to help even more animals through their partnership with Charleston Animal Society. 
"We could not be more proud to work with an organization that makes such an impact," Robert said. "The unconditional companionship, love, and happiness–pets make every situation brighter, and your whole day picks up."
ABOUT CAVALIER KING CHARLES SPANIELS
If you're looking for a small dog that's great with kids, other dogs and even strangers, The Cavalier King Charles Spaniel may be for you. According to the American Kennel Club (AKC), "the Cavalier King Charles Spaniel are the best of two worlds, combining the gentle attentiveness of a toy breed with the verve and athleticism of a sporting spaniel. The Cavalier's all-around beauty, regal grace, and even temper mark him as one of dogdom's noblemen. A toy spaniel no more than 13 inches high, and usually doesn't weigh more than 18 lbs. Cavaliers may be aristocrats, but they gladly descend from their royal high horse for a backyard frolic or a squirrel chase. They can be upbeat athletes or shameless couch potatoes, depending on an owner's lifestyle."