Did you know that in the African savanna, Cape buffaloes have mastered the art of survival against fierce predators like the lion? Their secret lies in their ability to stick together, protect their own, and work as a team. This simple yet powerful lesson from the animal kingdom sparked a game-changing shift in our Humane Education department's summer camp approach this year.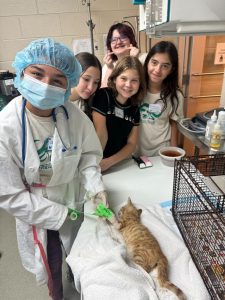 BEING BUFFALO
We took inspiration from these fantastic animals and applied it to our summer camp philosophy- true strength doesn't reside in the loudest voice but in the collective unity of the group. This idea became the foundation of our camp's theme, sparking instant positive changes and propelling this year to be one of the most exceptional yet.
The notion of "Being Buffalo" or embracing "Buffalo Vibes" quickly caught on with our campers. They instantly connected the dots and began drawing real-life comparisons, with campers noting that "bullies are like lions."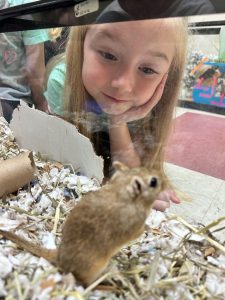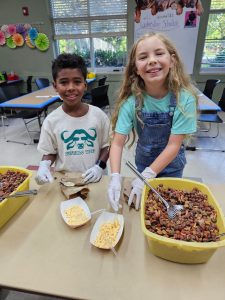 Our team loved the opportunity this gave us to highlight how much better it would be if we all were more like empathetic buffalo who focused on taking care of each other.  Cultivating the positive, kind attitudes we wanted to see was so much easier when connecting it to the cooperative nature of buffaloes.
We interwove this concept into every game, lesson, and activity we could. What followed was beyond our expectations.  "Buffalo Vibes" became an effective way of managing behavior while helping us successfully achieve positive behavioral shifts, which is the ultimate goal for educators.
POSITIVE REINFORCEMENT
How did a simple lesson about buffalo behavior evolve into a comprehensive behavioral framework? The answer is quite simple, and one that is familiar to many in the animal welfare world: positive reinforcement! Who doesn't love rewards? We introduced a fun incentive system called "Buffalo Bucks," allowing campers to earn paper dollars by showing kindness, empathy, and teamwork. Each buck translated into an entry for a daily prize drawing, making good behavior both fun and rewarding.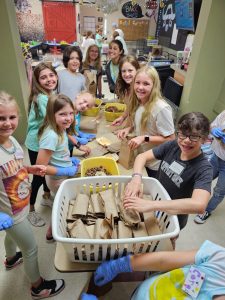 Campers became cheerleaders for each other's accomplishments and spread pawprints of kindness around the entire shelter with gestures such as holding doors, helping fellow campers clean their areas, and sharing compliments freely with all (even our kid-shy shelter staff!).
As the saying goes, kindness is contagious, and each day that was proven as we noticed the number of buffalo bucks increasing.
Here's the best part: this theme fostered inclusivity!  Working as a team required campers to exercise their compassion muscles and adapt their communication styles to support fellow campers of various ages, personalities, and backgrounds. If you've ever worked on a team, you know all of these factors can be difficult.  It had been a huge hurdle that we painstakingly tried to navigate each year of camp. However, it was easily circumnavigated with "Buffalo Vibes."
Sounds pretty magical, right?  We think so too, and the magic doesn't have to end at camp. Our compassion programming is year-round, and we welcome all to learn more by coming to a program or visiting us at CharlestonAnimalSociety.org.  We are always looking for new participants and education volunteers!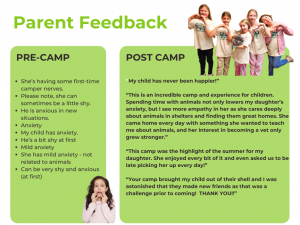 The 2023 Summer BARK campus at Charleston Animal Society sold out in just six minutes and had more than 300 children on the waiting list. These special camps cater to children as young as 5 and extend up to teenagers.  Camp is centered around learning, having fun, and inspiring kids to take action in support of the things they care about. Each week, participants assist in volunteer activities such as building enrichment, cleaning cages, and making marketing materials for adoptable pets. 
Editor's Note: Heather Grogan is Charleston Animal Society's Humane Education Director and is on the National Board of Directors for the Association of Professional Humane Educators (APHE).