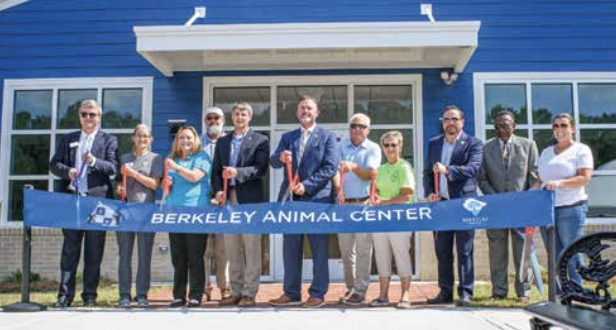 BY JEANNE TAYLOR
On June 14, 2021, a dream came true when a new shelter opened for Berkeley Animal Center! The ribbon cutting was a well-attended event peppered with local dignitaries and community stakeholders. It was clear from the crowd's response that this was long overdue.
Until that point, Berkeley Animal Center had been operating on leased land in outdated facilities much too small for the 1,229 square miles this shelter serves. Imagine taking in every stray animal, every dumped pet, or every animal seized by an enforcement officer for an area larger than the State of Rhode Island and doing so in a rundown shelter intended to house no more than 100 animals at a time.
While the new shelter did not remarkably increase capacity, it did finally give staff and volunteers the space needed to care for the animals properly, and it affords enhanced community interaction through meet and greet rooms, play yards and safe walking areas.
The animals' living areas are greatly improved in the new space with indoor/ outdoor access, which makes cleaning easier for the caretakers.
MORE SPAYS AND NEUTERS
The new shelter also provides dedicated veterinary treatment and surgical space, which is an especially indispensable component for spay and neuter services. Previously, the shelter was spending over $100,000 annually just for spay and neuter surgeries and with only one high volume spay/neuter clinic in the Lowcountry at this time (at Charleston Animal Society), animals have had to travel as far as Columbia for these critical veterinary services.
Berkeley Animal Center functions with minimal staff (13) and a large volunteer corps that assists with dog walking, fostering, event support and pet area cleaning, both at the shelter and in the community stores where adoptable cats are also housed and sponsored. "Our people – staff, volunteers and fosters – are the absolute backbone of our shelter system and we are so appreciative of their support," remarked Heather McDowell, Director of Operations.
FRIENDS OF BERKELEY ANIMAL CENTER
Berkeley Animal Center receives their operating funds from the county and grant funds from PetSmart Charities. Thankfully, there is also a nonprofit arm, Friends of Berkeley Animal Center, that has been working hard to raise funds to purchase necessary items for the shelter.
Their tireless efforts and support through community events and fundraisers have been key to the shelter's ability to acquire items such as commercial washer/dryers, dishwashers, spay/neuter surgery items, toys for the roaming cat room, dog enrichment products, and many more items.
The new facility still has a wish list, and they are seeking sponsors for the laundry room, kennels, animal kitchen, and play yards. Sponsorships can range from $4,500 to $35,000 and can be offered by individual donors, businesses, or entire neighborhoods.
There is also an ongoing need for support of routine care expenses for cases of abused and abandoned animals.
"We receive so many emaciated animals who are barely hanging on and they
have to receive urgent veterinary care to even have a chance at survival. We have embedded collar cases, burn victims, and the list goes on," said Tiffany Hoffman, Event Coordinator for Berkeley Animal Center. "Our need never decreases so our fundraising doesn't either."
For more information on sponsorships, how to help with the medical fund
or other donations, please contact Heather McDowell: heather.mcdowell@ berkeleycountysc.gov