A 21-year-old emaciated horse is recovering after being rescued August 9th. A Charleston County Sheriff's Deputy was dispatched to a property on Jacksonboro, Rd. in Ravenel, after an eyewitness called to report concerns about the horse's condition.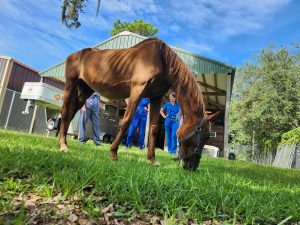 The female horse named "Strawberry" was found alone in the field with only a bucket of dirty water and two bales of hay that appeared to be weeks old. The deputy said the animal's ribs and spine were easily visible and her hooves were in "deplorable" condition. 
The owner was found across the street in a house and said he buys Strawberry hay once a month and did have the horse de-wormed every three months. The owner is being charged with "ill treatment of an animal," a felony in South Carolina, for not providing proper nourishment for Strawberry and for not providing adequate veterinary care.
The sheriff's office seized the horse and brought her to Charleston Animal Society to recover. An equine specialist veterinarian determined the horse had a body condition score of 1 [out of 9] on the Henneke Equine Body Condition Score Chart, which meant she was very thin and emaciated.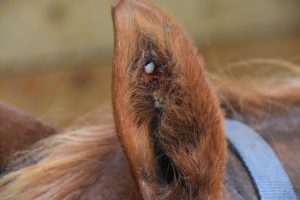 An equine veterinarian also noted that the horse's hooves were in bad condition and she had a sore on her face from the halter being left on for an extended period of time. Strawberry also had ticks in her ears and on her body and had a fungal skin condition.
STRAWBERRY IS RESCUED
Strawberry is now continuing her recovery with a Charleston Animal Society foster family. Charleston Animal Society's foster program is a vast network of more than 500 volunteers that help the Society take care of everything from dogs and cats to pigs and horses! As of this publication, more than 260 animals are living with Charleston Animal Society foster families.
"Charleston Animal Society provides everything the animal needs and the foster provides the love," said Charleston Animal Society Foster and Rescue Manager Christina Ellwood. "In Strawberry's case, she is receiving food, medical care and other equipment."
CAUSES FOR HORSE NEGLECT
Horse neglect around South Carolina has been an issue for years. One big reason involves money. A horse can cost approximately $3,000 per year, and when a horse owner falls into tough economic times – a horse's welfare can plummet as a priority.
Horses require substantial resources, including food, shelter, veterinary care, and grooming. When ignored, malnutrition, untreated illnesses, and overall neglect can follow.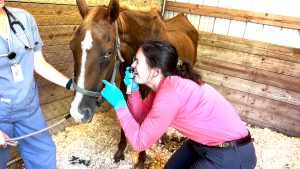 Additionally, lack of education is a contributing factor to horse neglect. Proper horse care requires specialized knowledge about nutrition, healthcare, and training. Ignorance often leads to unintentional neglect, as owners might not recognize signs of illness or understand the dietary requirements of their horses.
While laws exist to protect horses, they are not always effectively implemented or enforced. Luckily, in Strawberry's case, a concerned citizen saw her and did the right thing by reporting her condition to police so they could investigate.
For now, Strawberry is recuperating in the countryside, receiving regular medical checkups and a balanced, nutritious diet. She's also enjoying fresh air, clean water and open fields.
Once she is fully recovered, Charleston Animal Society will place Strawberry up for adoption, so she can continue to live the life she deserves.