By ABIGAIL APPLETON, PMP, CAWA & BECCA BORONAT, CAWA
South Carolina is making great progress in lifesaving but our animal care systems are facing significant challenges.
LACK OF FINANCIAL RESOURCES
Lack of financial resources lies at the heart of almost all of the challenges faced by sheltered animals in our state. Chronic underfunding of animal shelters and animal control agencies mean that private citizens are left to subsidize the cost of a public service.
For many government shelters, essentials like medical care, behavioral enrichment items, or costs associated with animal transport are funded by a nonprofit
"Friends of the Shelter" type group. For nonprofit shelters holding a government contract, like Charleston Animal Society, not a single one receives funding to fully cover the costs of the animals they care for on behalf of the government, and in most cases it's less than 50%.
Increased funding could lead to faster, more comprehensive medical care, improved behavioral care, increased staff training, expanded support for community pets … not to mention improving the physical facilities themselves. Now is the time to ask your elected officials to fully fund their counties and municipalities and help us take better care of our communities' animals.
VETERINARIAN SHORTAGE
The veterinary workforce shortage has impacted dogs and cats inside and outside of animal shelters. Community dogs and cats from several areas in our state depend on low to no-cost preventive pet healthcare to follow the law (rabies vaccines) and to mitigate the potential of infectious diseases outbreak.
Care-A-Van, a Pawmetto Lifeline outreach mobile unit, saw a decrease of 30% in its capacity to provide community vaccination due to this factor alone. In South Carolina, shelter dogs and cats are required by law to be spayed or neutered within 30 days of adoption so due to the diminished veterinary workforce, animals can't be fixed and are staying longer in the shelters, causing overcrowding, poor quality of life of the animals and overworked staff.
To help address this issue, NKSC 2024, an initiative of Charleston Animal Society, organized South Carolina's first statewide spay/neuter project to bring relief to shelters that had hundreds of animals eligible for adoption by bringing in out-of- state veterinarians to perform the critical surgeries. By the end of the project, almost 700 dogs and cats were altered from 11 different counties.
NO CENTRALIZED LOST AND FOUND SYSTEM
Another challenge facing SC animals is the lack of a centralized system for lost and found animals. There are so many opportunities for missed connections between someone who loses their pet and someone who finds it. Petco Love Lost facial recognition is a great tool to help lost pets get back home, but it only works if you use it. Many shelter software systems automatically upload pets' photos when they enter a shelter but its use among pet owners is not yet widespread. You can sign your pet up today at lost.petcolove.org.
NO TRAINING STANDARDS FOR ANMAL CONTROL OFFICERS
South Carolina has no standards for training of Animal Control Officers (ACO), which makes prosecuting animal cruelty difficult, depending on where the incidents happen. Each individual jurisdiction decides what training their ACOs should (or shouldn't) get. Training varies wildly between jurisdictions, partly based on which department pays the bills.
In some communities ACOs are sworn law enforcement officers who investigate and enforce animal crimes, in some cases they are in the code enforcement or public works department, and in a few places animal control departments are called "environmental services" and made responsible for litter control as well.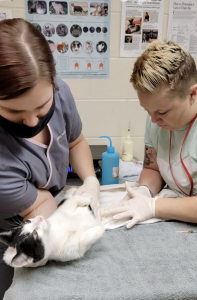 WEAK CRUELTY LAWS
Even if ACOs had standardized required training, their ability to respond depends on the laws and codes they are tasked with enforcing. And those laws are already weak; Animal Legal Defense Funds ranked South Carolina 44th in animal protection laws for 2021.
All this said, there is some light ahead for animal care. Magistrates are now required to have two hours of animal care training, and Charleston Animal Society has brought in professional anti-cruelty organization to train and certify Animal Cruelty Investigators.
LACK OF SHELTER STANDARDS AND REPORTING
Likewise, animal shelters effectively have no required minimum standard of care. Three years ago, the state legislature passed an animal care bill but by the time the bill made it to Governor McMaster's desk to be signed, any requirements for government shelters to make improvements had been removed if the improvements would cost any money.
With no requirement to maintain a safe, healthy and structurally sound shelter, many local governments don't have much incentive to invest financial resources in their local shelter. Shelter staff work hard to provide a safe and healthy environment for the animals in their care but are hindered by issues with their physical facility.
At the same time of the shelter standards effort, the South Carolina Animal Legislative Coalition (SCALC) also worked with the Legislature to require annual shelter reporting so that resources could be directed to areas of the state in most need; however, government shelters were exempted from the statute, effectively rendering it useless.
FREE-ROAMING CATS
One of the most at-risk categories of animals entering shelters are free- roaming/feral cats. Feral cats can't be kept in cages or be handled the way domesticated cats are, it is simply inhumane to do so. Worse, it can be hard to tell which cats are truly feral and which are just terrified to be in a shelter.
In communities where trap-vaccinate- alter-return (TVAR), a proven cat reduction strategy, is not allowed, when a feral (or feral-seeming) cat is taken to a shelter euthanasia is usually the outcome (a practice known as trap-and-kill). TVAR type programs are the best way to reduce the population and prevent euthanasia of these cats. Many communities across South Carolina have implemented TVAR programs in various forms and all of them are reducing stray cat populations and saving lives. The state data collected by NKSC 2024 shows a significant drop in feline euthanasia once this strategy is implemented, but outdated practices, bias, misinformation, lack of funding and/or access to spay/neuter services have been costing the lives of thousands of cats.
PANDEMIC
On top of all the challenges listed above, the Coronavirus pandemic has affected our workforce even more, both in the general changes in the workforce and in the disease itself. One large shelter in the Upstate has gone months with a third of their positions unfilled. Several shelters across the state have had periods where 50-75% of their workforce is out with COVID-19.
STILL SAVING LIVES
Despite all these challenges, by working together our open-admission shelters and their partners are still saving more lives than ever before! In 2021 our statewide euthanasia rate for dogs stayed at just 8% for the second year in a row, and for felines it fell for the 6th straight year to 14%. We're not there yet but even with all these challenges making it harder we are on track to make South Carolina a No Kill State by 2024.
Abigail Appleton, PMP, CAWA, is the Chief Project Officer for No Kill South Carolina. Becca Boronat, CAWA is the No Kill South Carolina 2024 Project Manager.