BY NATASSIA DONOHOE
The summer issue of Carolina Tails featured the e-carriage – an electric carriage that could be a welcome addition to the tourism industry in Charleston – if city officials would give the carriage a chance. The response to the article was overwhelming, with many people commenting on how they would like to see this kind of alternative to horse-drawn carriages, especially in the heat of the summer. In this issue, we thought we would share more about the e-carriage inventor, Kyle Kelly, including his second passion, visiting patients at MUSC Hospital with his therapy dog Bear. Sadly, just as this issue was going to press, Bear walked over the Rainbow Bridge. As a testament to how loved Bear was, hundreds of people went to Kyle's downtown store to say their final goodbyes to Bear.
CT: You and your dog Bear are part of the MUSC Therapy Dog Team. Can you tell us more about Bear and the process to get him certified as a therapy dog?
KK: Bear is a Bernese Mountain Dog, and he is 10.5 years old; I've had him since he was seven weeks. He was a little goofy and all over the place, so I didn't get him certified until he was five. I just thought I'd give it a shot. We're certified through Alliance Therapy Dogs, a nationally recognized organization, and went through the process over three weeks right in Mount Pleasant.
 CT: What is it like to be on a therapy dog team?
KK: Once we were certified, we decided where we wanted to go. Therapy teams go to hospitals, nursing homes, schools, even airports. Now we mainly go to MUSC main campus; we have an all-access pass to both the adult and children's hospitals. Sometimes we do the night shift, which is huge because the night staff doesn't get to experience pet therapy as often. Cheering people up–people always remember that moment. They always remember when a therapy dog visits them in the hospital, especially kids. Bear and I, at the very least, are a good distraction on someone's bad day. If we can make the world a better place, why not?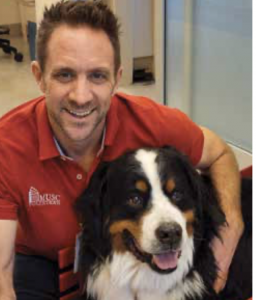 CT: You also run Uncle Kyle's Sweater Emporium. It's filled with fun, friendly, fantastically ugly sweaters. Did you know a sweater store would be a hit in Charleston?
KK: I had several stores in various parts of New York, and every time I opened one, I named it after a different family member. But I didn't have one named after me, so I just decided it was my turn! The store has been part of the Charleston community for almost nine years. We're constantly growing and evolving-the new change this year is the seemingly endless array of vintage starter jackets. It's a good thing we recently moved to a new storefront at 261 King Street, with about 10,000 square feet of space. I have a hoverboard to get around it (literally).
CT: So how long before one of your electric carriages can be seen passing by the store–can you give us an update on eCarriages of Charleston?
KK: There's been a lot of buzz in New York City lately. I am in the process of building a different style for other cities that have requested it, like New York and Philadelphia. I am working on one for those cities and I want it to be perfect–you learn so much from the first one to the next one. Especially since working with New York, the momentum up there is very impressive. I've started other prototypes for Charleston. Every city has their own ordinances and laws, so it's just a matter of Charleston choosing to move forward and support this instead of creating unnecessary obstacles.

CT: What has driven you to make a difference in the community? Any advice for others?
KK: We only get so much time here, and if I can make the world a better place, then why not? Especially having horses growing up, I want to make a difference. You can see it in real life, it sucks for the horses. With that and my business mindset, I saw an opportunity. People see things and opportunities, but the next step is to act on it. You just have to act on it.
CT: If Bear could tell us anything about you, what would it be?
 KK: Whether it is business, taking care of Bear, relationships, or sports. I don't do anything half-way. I'm all in.