By Kim Almstedt
There was a time in our country when an estimated 15-20 million companion animals were euthanized annually due to overpopulation. According to the ASPCA, this number has decreased to an estimated 1.5 million companion animals facing euthanasia each year. Spay and neuter efforts and increased adoption of shelter animals, among other lifesaving efforts, have contributed to this decrease.
Shelter Animal Adoptions Threatened
Unfortunately, the progress we've made is being challenged by commercial breeding operations, and the pet stores who sell these commercially-bred animals. In August 2018, for the first time in 30 years, Petland in Summerville, South Carolina, started selling puppies imported from commercial breeding facilities. The implications of this decision critically impact Dorchester County along with every shelter and rescue in the tri-county area.
Dorchester Paws, like many other shelters, is at or above capacity all year long, with record breaking admissions of over 50 animals in one day (May 15, 2018 to be exact). The shelter formerly had their animals for adoption at Petland and were grateful for the partnership. However, the decision by the new owners, to import commercially-bred puppies goes against Dorchester Paws' mission and therefore the shelter made the painstaking decision to dissolve the partnership.
"We cannot in good conscience move forward in a relationship with a business knowing that the animals they are bringing into our community will overwhelm an already taxed system," said Natalie Hutt, President of Dorchester Paws.
So many people I know are working tirelessly to end unnecessary euthanasia. This lifesaving effort takes support from an entire community, not just a handful of people. That community includes outstanding pet stores like PetSmart and Petco who exhibit an unwavering mindset to adopt, don't shop.
How Can You Help?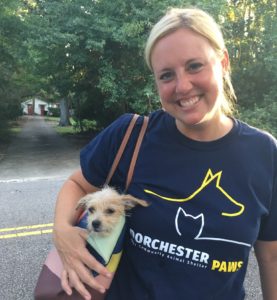 An animal does not know what zip code they live in; or what a state ordinance means, or the "price tag" that is given them. They were created for a purpose, a life given by God, and should be treated as such.
But together, each of us can contact our local elected officials and urge them to pass legislation that will keep pet stores from selling pets that aren't shelter animals. According to Best Friends Animal Rescue, 24 states already have this kind of legislation at the municipal and county level of government. Let's get South Carolina going the right direction too.
Kim Almstedt is the Executive Director of Dorchester Paws.
According to the Humane Society of the United States (HSUS): "Responsible breeders do not keep their puppies and dogs in inhumane conditions and they never sell to pet stores or directly over the Internet. Responsible breeders do not appreciate being lumped in with puppy mills, which emphasize profit above the health and wellness of dogs. In order to distinguish themselves from less reputable producers, responsible breeders can take a stand. Puppy mills impact the responsible dog breeding world in a number of ways."