BY NATASSIA DONOHOE
Found wandering the streets, Pippin's gone on to grace calendars, magazines and even beer cans!
The last thing one would expect to see at Anson's Restaurant in downtown Charleston is a pair of perfectly pointed, gold-fringed dog ears peeking out from the tabletop in a corner booth. Yet, there sits one of Charleston's most loveable celebrity pets, Pippin, Charleston Animal Society's 2021 Rescue Brew Beer Spokesdog. A passing cheeseburger will bring Pippin's soulful eyes to light, waiting expectantly for his special plate from his owner Donna Moeckel, the owner of Anson's.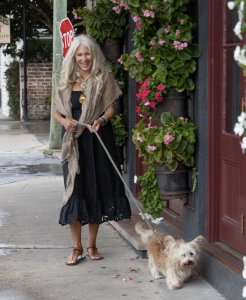 This scene is light years away from when Pippin, who also goes by "Pip," was found as a scraggly brown dog roaming West Ashley in June 2013. Pip was brought to Charleston Animal Society. His arrival at the shelter couldn't have come at a better time: just a year prior, Charleston Animal Society made the decision to accomplish the seemingly impossible, making Charleston the first No Kill Community in the Southeast.
After Pip's recovery, he found the perfect home with Donna's late sister, Kiara Barnett, who was also one of Charleston Animal Society's longest serving board members. 
LIFE WITH KIARA
For six years, Kiara doted on Pip, bringing him everywhere she went from horse shows to happy hours. Before Rescue Brew came along, Pip had his first brush with fame, being featured in one of Charleston Animal Society's famous firefighter calendars, sold to raise money for the Society's lifesaving mission. He became a recognizable fixture next to Kiara at events, his brown, scruffy fur grown out inin a soft, wheat colored coat, a true rags-to-riches story. During that time, Donna also became involved with Charleston Animal Society, sharing in Kiara's passion for animals and her drive to make a difference for them.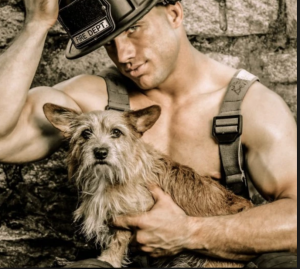 "I still can hear my sister's voice in some of Charleston Animal Society's promotional videos –one of the only pieces of her left — and I love listening to her talk about it," Donna shared. Like many videos, this one showed Kiara holding Pip in her arms, smiling. "She's talking freely about how much she believes in the No Kill Community of Charleston, and it's a true depiction of her, not scripted. It's about the connection with pets."
When Kiara was diagnosed with advanced stage cancer in late 2018, Donna said Kiara didn't want to talk about what would happen to her pets – sometimes she didn't want to talk at all. While Kiara eventually made arrangements for her horses, she knew that her family would do anything for Pip when the time came.
A SISTER STEPS IN
Kiara passed away in early 2019, and her partner took over caring for Pip. Donna had not had a dog in a long time due to loss, but saying goodbye to Pip after her frequent visits grew increasingly emotional. Donna knew that Pip needed to be hers, and with a blessing from Kiara's partner, Pip soon took his place at Donna's side. It was an easy transition, especially considering that Donna and Kiara bore such a resemblance to one another from their looks to their voices. Donna even made sure to leave a water bowl next to the bed for Pip, just as Kiara did. 
"He goes everywhere with me; I don't go places he can't," Donna states. "It is very special to have him to carry on her memory. I need to give him love for two."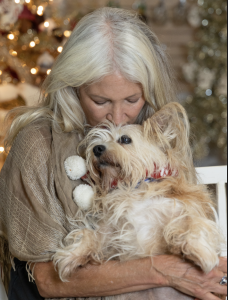 Donna also continued supporting Charleston Animal Society with Pip. She won the Carolina Tails Cover for Pip at last year's Gala, just months after Pip became the Rescue Brew Spokespet for 2021 with 29,241 votes! "When the [Rescue Brew] contest started, I put $10,000 as the goal and then it surpassed that," explained Donna. "I checked the contest constantly –  one dog at the end came ahead, and it became like a horse race. I was sending photos of Pip to friends asking for votes. I wanted to do anything I could to get him to win…it's very special." 
TRAVELING WITH PIP
From Anson's to shopping downtown, to his own chaise at Kiawah, Pip truly goes everywhere. He's even visited Georgia Governor Brian Kemp. Donna makes sure to share Pip's story of rescue and love, hoping that she and Pip can continue to be philanthropic to help people and animals. She's considering a "Pip's Frose" fundraiser, and even entering him into next year's World's Cutest Rescue Dog contest hosted by People Magazine. With his track record, we're sure he'll be a contender.
"I thought I would spend the rest of my life with my sister, I want her to be part of my legacy, it's about us, together." As the photographer approached, Donna pulled Pip into her lap and he put his paws on the table looking up towards hers. "We want to keep helping rescue dogs, rescue animals. It's Pip's mission too."
WHAT WILL HAPPEN TO YOUR PET WHEN YOU'RE GONE? 
It's a difficult question to think about, because many times your family may not be in a position to help take over the care of your animal.  With a New Year closing in, please consider looking into Charleston Animal Society's Pet Safe Pet Trust program that will ensure your pet is cared for if your death precedes your pet's. For details, contact Natassia Donohue at ndonohue@charlestonanimalsociety.org.