BY VICTORIA HANSEN PHOTOS: VICTORIA HANSEN
It's a different breed of show and tell at St. James – Santee Elementary School in Awendaw. Heather Grogan stands before a fifth-grade class as her 8-year-old assistant Frank cocks his head to the side, steadily eyeing something in her hand. His tongue hangs from his mouth.
"Guys, if you come up here are you going to get slobber on your hand?" she asks. The kids giggle, answering in unison, "Yes!"
MAKING HUMANITARIANS
Grogan is a humane educator with Charleston Animal Society. Frank is a Boykin Spaniel. They're visiting the school as part of the shelter's "Pet Buddies Club," a program that travels once a month to Charleston area schools teaching children grades one through six responsibility, care and compassion through animals.
It's just one of several programs taught by the four educators on the Humane Education team. Each month they visit 33 classrooms. Last year they taught more than 22,000 humane education lessons!
Down the hall from Grogan, De Daltorio works another room full of fourth graders with her much larger dog, Moose. The Boxer- Rottweiler-Rhodesian Ridgeback-Lab-mix is a handful. He looks a lot like a Dalmatian and the kids can't seem to keep their hands off his spots. He is beautiful.
"Our whole thing is, if you're going to be kind to animals you're going to be kind to people and vice versa," Daltorio says. She's the Senior Director of Humane Education at Charleston Animal Society.
TRAGEDY SPARKS CHANGE
Daltorio and Grogan talk to several classes after making the nearly hour-long trek from Charleston to rural Awendaw. The area has become a particular focus ever since an unthinkable tragedy made the news in the spring of 2016. A dog was chained, dragged and burned. Three children were charged in its death.
How could children be responsible? What had gone wrong? Two years later, no one really knows.
But Daltorio says the tragedy opened a lot of people's eyes regarding the need for humane education, "One of our supporters saw the story and wondered what they could do." A gift from that supporter to fund humane education in the school soon followed.
After a guidance counselor helped open doors for her team, Daltorio found the first clue on what may have prompted the tragedy: many of the school's children had little experience with animals. They were scared. Kids would literally run and hide when she tried to bring in a dog for a teaching moment. How could they have empathy for an animal when there was so much fear?
ON THE ROAD
Charleston Animal Society's humane education efforts caught the eye of the WaterShed Animal Fund, a foundation focused on animal outreach and education. A WaterShed grant made it possible for Daltorio to expand the Pet Buddies program
to more under-served communities across Charleston County. Now children in Awendaw, Hollywood, Ravenel, Megget, Adam's Run, Edisto Island, Johns Island, McClellanville and Wadmalaw Island are learning to become humanitarians.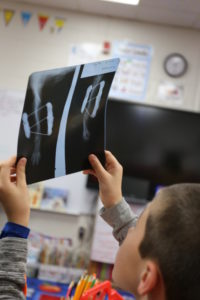 "I think it's crucial," says Daltorio. "These rural communities are often forgotten." The Humane Education team shows up in these areas as part of the Helping Hands for Rural Paws outreach program.
CHANGING HEARTS AND MINDS
Back in class, Daltorio holds up a jar with what look like swirls of spaghetti inside. "These are heartworms," she says. "Did the dog that had them die?" asks one boy. When she replies yes, he shakes his small head.
"Truly with our programs we want the kids to feel something," says Daltorio. "To me, it's detachment that is frightening."
"It's tremendous what they're doing," says Cathy Damico. She is the kids' math teacher temporarily stepping aside for a lesson in humane education. "I had almost forgotten they were coming," she says, "But when I mentioned pet buddies, the children all started clapping."
On this day, the kids are learning about medical care for pets. They listen to Moose's heart, look for a microchip and give the big boy pretend shots with a plastic syringe. Moose doesn't mind. The children are gentle.
Daltorio hands out information about the Helping Hands for Rural Paws program. The kids seem excited that Charleston Animal Society's Simon Greer Mobile Spay-Neuter Clinic is coming to their town. It provides free vaccinations, spaying and neutering not only for their animals, but for those of family members and neighbors as well.
Kids, once shy upon Daltorio's arrival several months ago, are now eager to ask question after question. The former school teacher and animal lover lights up when one child begs to know, "Can dogs laugh?"
It's a good question, one of compassion.
IMPACTS BIG AND SMALL
Teaching kids is just the first step. Empowering them to persuade their parents or come up with creative solutions on their own takes time. That's why Daltorio and Grogan make multiple visits a year.
Daltorio stays optimistic. She recalls a child who recently encouraged her mother to stop feeding the family dog chicken bones after learning of the danger in a Pet Buddy class.
The daughter-mother talk was a tiny act in the big scheme of things. But, moments like that bring Daltorio's Humane Education team's motto to life: Making Humanitarians, One Child at a Time.