Rachael Ray is a familiar name to most through her top-rated television shows, cookbooks, lifestyles magazine, and more. Rachael is also a generous philanthropist, and, through The Rachael Ray FoundationTM, helps support causes that are near and dear to her heart including helping animals in need. In March, Rachael's Foundation awarded Charleston Animal Society a $100,000 grant.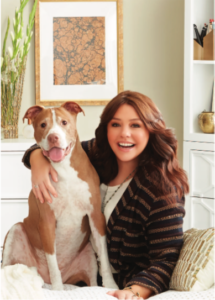 The Rachael Ray Foundation's grant will go to support two key lifesaving programs:
• The Rachael RayTM Nutrish® Meow Meow Here Kitty Kitty program to fund spay/neuter procedures and vaccinations for free-roaming cats.
• "Sex and the Pitty" will allow Charleston County owners of Pitbulls to receive free spays and neuters at Charleston Animal Society.
"We are so excited to be on The Rachael Ray Foundation's radar – and we look forward to building our relationship with this lifesaving organization," said Charleston Animal Society President & CEO Joe Elmore.
The Rachael Ray Foundation is funded by a portion of the proceeds from each sale of Rachael's pet food, Nutrish®.More than $35 million has been donated to animal charities and other organizations that do good for animals through The Rachael Ray Foundation and its predecessor entity.