BY DAN KROSSE
PHOTOS: JEANNE TAYLOR AND DAN KROSSE
WHEN THE CHARLESTON COUNTY SHERIFF'S OFFICE BROUGHT SIX HORSES IN for rescue to Charleston Animal Society in February, it was quickly discovered that four of the horses were Marsh Tackies. "The Marsh Tacky is a unique breed of Colonial Spanish Horse found only in South Carolina and is one of the most endangered horse breeds in the world," according to the Carolina Marsh Tacky Association.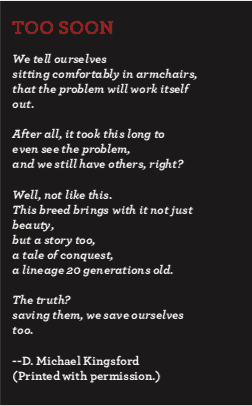 They once roamed freely along the coast, but as development overtook our marshes, the Marsh Tacky population plummeted. Today, there are just over 400 Marsh Tackies left. Thankfully, the Carolina Marsh Tacky Association took in these beautiful horses to keep the lineage alive. On the right is a poem about the plight of the Marsh Tacky, written by D. Michael Kingsford.