Elizabeth Bradham Humanitarian of the Year Award
The Elizabeth Bradham Humanitarian Award was presented to Jim Elliott, Executive Director and Founder of The Avian Conservation Center / Center for Birds of Prey, based in Awendaw. Elliott has been a life-long student of birds. His many years of experience have been significantly effective in his quest to protect avian species and their habitats.
Early in his career, Elliott became aware of the need for a professional level of care for injured birds of prey in South Carolina, equipped to sufficiently manage the direct threats to the birds of prey population. That awareness eventually led Elliott to establish the Charleston Raptor Center in 1991.
The Elizabeth Bradham Humanitarian Award recognizes an individual whose lifetime of work has impacted and continues to impact the lives of countless animals in our local community and amplified beyond.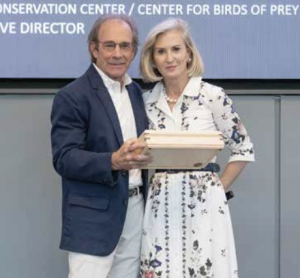 Community Ambassador Award
This year's Community Ambassador Award went to the Shelly Leeke Law Firm. Each year, Charleston Animal Society recognizes a business, organization or agency that goes above and beyond in their support of the Animal Society's lifesaving work by presenting this prestigious recognition.
Shelly Leeke has volunteered as a foster; she's adopted homeless animals and she has donated matching gifts during Charleston Animal Society "Giving Day" events to encourage other donors to help save animals through financial gifts.
In July, Leeke is contributing yet again to a $50,000 match in Charleston Animal Society's "31 Days to End Cruelty" campaign. Your gift will be doubled throughout July at CharlestonAnimalSociety.org/EndCruelty.