BY DAN KROSSE
When Stall High School Assistant Principal Claudia Newbern saw the colorful mural depicting a dog and cat, she instantly fell in love with it. When she learned the student artists wanted to donate it to a local animal shelter, she knew exactly who to call: Charleston Animal Society Board Member Luigi Bravo.
"When your CEO, Joe Elmore, came to pick it up, he was like, 'I want to bring the people from the shelter back to see all of this artwork here at Stall. I want them to see what you guys have done,'" Newburn explained.
A week later, a team of 15 representatives from the shelter came to see the artwork and were amazed at the talent they witnessed.
The mural is made of tiles and is titled "Making Happy Homes." It magically ties together the animals in the painting with a historic Charleston single house and the Ravenel bridge to bring out a true sense of community.
Art Teacher Tracy Partridge said working with the students on the mural was a bonding experience. "It was therapeutic for us, and we all love animals. If we haven't connected on one level, we end up talking about their dogs at home or what pets they do have at home," Partridge said.
"Especially at a time like this, it's nice to talk about something that's so personal, but brings so much love into our lives."
Sculpture instructor Raymond Hampton agrees with Partridge that working on
the artwork was a nice break from the difficulties with the pandemic, economy, and other social issues. A mutual love of animals was one way to add a positive impact on society, according to Hampton.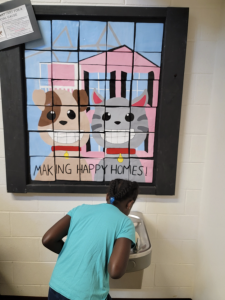 The mural was just one of the hundreds of pieces of art completed as part of an end-of-year art show at Stall High School. The artwork included paintings, glasswork, sculpture, and other art of all shapes, sizes, and mediums. All of this was accomplished at a Title I school, where poverty is a daily reality for many students.
"These students have this raw talent in them that they don't realize that they actually have. And I think our teachers bring that out," Hampton said. "And so, when we have an opportunity to grab somebody from the community and say,
'Hey, look what we do!' And they respond as the Charleston Animal Society did, that is just so cool. I mean you could tell; it gives me chill bumps."
The mural was placed at the entrance of the Post and Courier Foundation Education Room at Charleston Animal Society.