A young, gray and white dog not even a year old, was left bleeding on the side of a North Charleston street on a late afternoon in June. What happened to the dog is the definition of cruelty. 
"Both of the dog's ears had been severely cut, leaving the dog mutilated. Someone may have been attempting to 'crop' the ears at home, but they left him on a road to die," said Charleston Animal Society Vice President of Operations and Strategy Aldwin Roman, CAWA.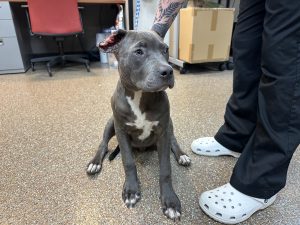 Once the dog, named "Van," was brought to Charleston Animal Society he received immediate lifesaving care to stop the bleeding and clean his wounds.
DANGERS OF EAR CROPPING
Certain breeds of dogs are more prone to ear cropping than others. They include Boxers, Schnauzers, Great Danes, Doberman Pinschers, Miniature Pinschers and American Pit Bull Terriers.
The veterinary community is split on ear cropping – whether it's ethical or humane. Yet the practice continues. Ear croppings should only be done in a veterinary office, using general anesthesia and proper medical follow-up including pain control, wound care and bandage changes.
Yet, hacks on doing ear croppings "at home" are easily found on the Internet and this puts dogs in great danger. Amazon was selling cropping "kits" as late as 2020, before a petition convinced the retail giant to stop selling them.
Charleston Animal Society offered a $5,000 reward for information that leads to a felony animal cruelty conviction in Van's case. "It was clear that whoever did this, did not use any kind of precautions, including anesthesia or pain control," said Charleston Animal Society Chief Medical Officer Lucy Fuller, DVM. "Van was in a lot of pain. The ear tissue was left to die and just fall off, which could have caused life-threatening infection, had we not intervened."
Eyewitnesses told police they saw a blue Acura stop and abandon the dog alone, as they sped off on Hampton Ave. in North Charleston. Doorbell video captured the incident and is being reviewed by law enforcement.
VAN'S NEW LIFE
Lauren Karsen of Summerville was grieving the loss of her dog Cassie when she saw a Facebook post detailing the horrific abuse Van suffered. Lauren called Charleston Animal Society and it was the perfect match – Van was adopted.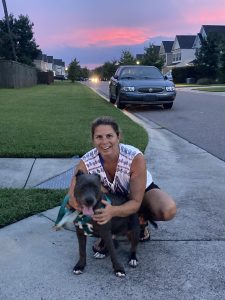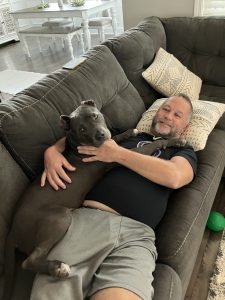 Now Van enjoys daily walks through his neighborhood and trips to the dog park nearby with Lauren, her boyfriend Kyle and his son Mitchell.
"After seeing Van's ears, people ask me 'did you do that?' and I explain 'no!' But then I explain what happened and people's reaction is always, 'I can't believe someone would do that,'" Lauren shared.
Visiting Van, you would never know what a rough start he had, other than the chiseled ears adorning his head. Despite everything this pittie-mix has been through, he is very sweet and let's Lauren pet his ears as if nothing ever happened. Some of his favorite times are "snuggle times" with Lauren.
"He has given me a renewed sense of purpose. After losing Cassie, I realized I missed getting out, going for walks – all those things dogs make you do," Lauren said.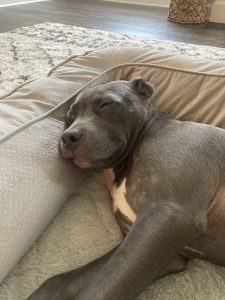 But even with a bright, new life for Van, Lauren can't help worrying about Van's past and the people who mistreated him. "I think he got away and has a better life now, but I want to find who did this to Van, because my fear is they are doing it to other dogs too."
Charleston Animal Society's $5,000 reward is still available. Call North Charleston police with any information you may have at (843) 743-7200.