THREE MAJOR AWARDS WERE GIVEN OUT AT THE 147TH ANNUAL MEETING OF CHARLESTON ANIMAL SOCIETY WHICH WAS BROADCAST OVER FACEBOOK AND YOUTUBE IN MARCH. EACH AWARD WAS GIVEN TO A PERSON OR ORGANIZATION DEDICATED TO IMPROVING THE LIVES OF ANIMALS ACROSS OUR COMMUNITY. CONGRATULATIONS TO EACH WINNER!
ELIZABETH BRADHAM HUMANITARIAN AWARD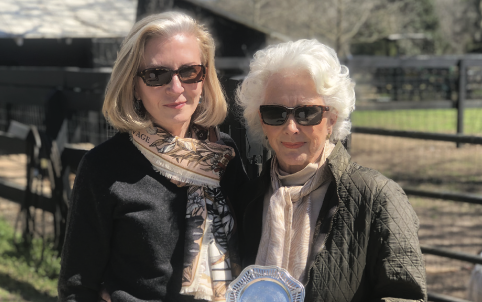 It was a mother-daughter affair at the Hallie Hill Animal Sanctuary in Hollywood, for the Humanitarian Award presentation. The award is named in honor of former Charleston Animal Society Board President Elizabeth Bradham. The recipient was her mother Helen Bradham who has dedicated much of her life to animal welfare, including the founding of the Hallie Hill Animal Sanctuary in 1988. Hallie Hill Animal Sanctuary provides a safe haven for animals with no other home or shelter. On several acres set in the beautiful Charleston County countryside, animals are prepared for adoption through respite, rehabilitation and socialization. For those animals whose chances of adoption are reduced due to age, medical or emotional issues, Hallie Hill provides a loving home.
---
HOMETOWN HERO AWARD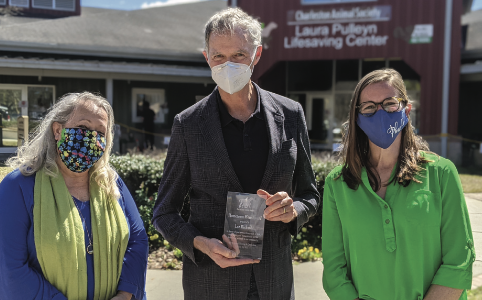 Many people remember the story of Ava, the dog who was pulled on a trailer by her owner Kris Cotton, as he traveled from Upstate New York to Florida last summer. Cotton was killed in a tragic accident on Highway 17 in Charleston County. Ava survived and was brought to Charleston Animal Society for her treatment and recovery.
When Ava was reunited with Kris's family, local pilot Lee Richards saw the story and offered to fly the family back to New York with Ava, to ease their pain and suffering. For his selfless actions, Richards was awarded the first ever Charleston Animal Society Hometown Hero Award. Richards says he loves animals and just wanted to make sure Ava and her family made it home safely.
---
COMMUNITY AMBASSADOR AWARD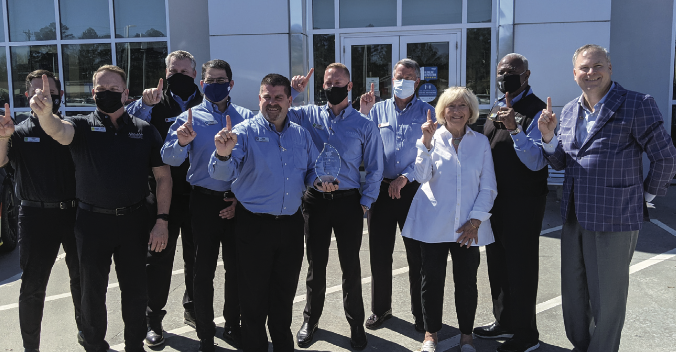 Charleston Animal Society has selected Hendrick Automotive Group as the recipient of its Community Ambassador Award. In addition to being a key financial supporter for over a decade, Hendrick Automotive Group has partnered with the Animal Society on adoption campaigns throughout the year — including the VERY popular "Home for the Holidays." During this campaign Hendrick "elves" partner with us to deliver new furry members of the family on Christmas Eve and Christmas Day.
The Hendrick Automotive Group employees have not only volunteered for the adoption deliveries but have also volunteered on committees and the Board of Charleston Animal Society. This is true partnership!