By Helen Ravenel Hammond
Photos: John Martin and Joanna Ferrell
Who can forget the story of Gumby the escape artist? He's the white hound who refused to be adopted and kept jumping adopters' fences to return to Charleston Animal Society (Carolina Tails, Winter 2016). When this hound mix came in as a stray in September 2014, the Charleston Animal Society staff worked hard to find him a forever home. But this rascally Houdini kept coming back to the shelter, escaping from his adopters 11 different times!
John Martin was working at Charleston Animal Society on the adoption floor and will never forget Gumby's failed adoptions. Over and over, Martin saw Gumby come back to the shelter.
"When I moved to the Behavior Team in June of 2016, I worked with Gumby every day and got to know him a lot better. He's always been a staff favorite and a great co-worker," says Martin. He recounts that Gumby became Charleston Animal Society's permanent greeter dog for playgroups. Gumby had an ease about him that calmed the newbies. In addition, he was a blood donor for kittens with eye infections.
Martin started taking Gumby home from work with him a couple nights a week and the huge hound immediately fell in love with Martin's wife, Joanna Ferrell.
"He's always loved me, but he's definitely a Mama's Boy and immediately latched on to her. He fit right in at home with us and was great about letting us share the couch with him," Martin jokes.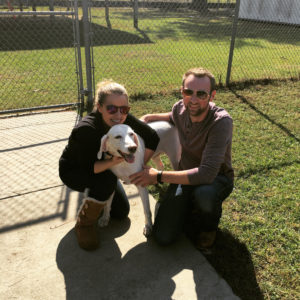 Moving to the Big Apple
In November 2016, the young couple made the decision to leave the Lowcountry and relocate to New York. "We had no intention of bringing Gumby to New York with us, but on my last day of work at Charleston Animal Society, I may or may not have called Joanna and begged if we could bring him with us. She immediately agreed and we couldn't be happier that we did," Martin admits.
The trio has been in Manhattan for more than a year, and Gumby is practically a Central Park celebrity. "Gumby walks at least four miles a day and is a hit in the big city. Hounds aren't too common here, and everyone asks what breed he is," says Ferrell. For the record, a DNA test found that Gumby is primarily English Pointer, with Greyhound, Whippet and a little Lab mixed in for good measure.
Gumby is loving the Big City Life where he sleeps in the bed with his owners—he's also laid claim to two-thirds of the couch—and goes to "Doggie Daycare" where he was named general manager.
According to Joanna, when they first adopted him, Gumby was a little "curvaceous." He has since gone on a diet, and now has his city-bod going, weighing in around 55 pounds.
Escaping: A Thing of the Past?
"Gumby is the absolute light of our lives. He has so much personality, is so affectionate and makes us laugh every single day," Ferrell beams. "And the best news? Gumby has never tried to escape! He's glued to our sides at all times, and we can open the apartment door and let him off-leash inside our building without worrying."
Martin, too, is tickled by all the attention Gumby gets in New York. "Gumby loves Greenies, butt scratches, going for long walks at Carl Schurz Park and Central Park, his stuffed pie toy, the occasional French fry, making friends at daycare, and sitting at busy intersections for treats," Martin says. "I am happy to have aided in his retirement."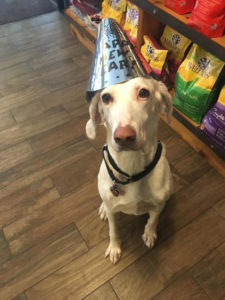 Follow Gumby's exploits in New York on Instagram: @gumbstagram.