The Almost Home Feline Refuge lost its founder Rosanne Marie Hayes in September. She was 68. Known as Rose to her friends and family, she threw her passion into the care of feral cats in Mount Pleasant.
Her husband of 46 years, Thomas, is carrying on her legacy at the Almost Home Feline Refuge.
After growing up in Indiana, Rose moved to Mount Pleasant in 1991 and her lifesaving work for cats soon began at the rescue and sanctuary she started. Rose will be remembered for her love of family and her loving care of animals in need. She most recently published a children's book about a special kitty who came to the shelter for her care.
According to the Feral Cat Coalition, a conservative estimate of homeless cats in America is 40 -60 million; about as many as there are house cats.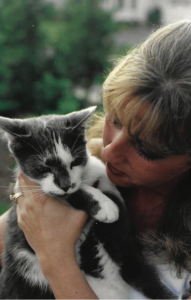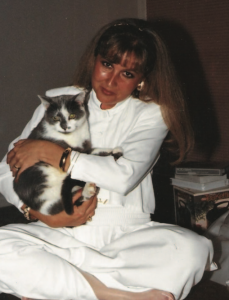 Rose believed community education and awareness is an essential part of successfully facing the feral cat challenge. Her sanctuary believed in the importance of spaying and neutering to help prevent overpopulation and afford relief to the local animal shelters which are already overcrowded.
Her life commitment to our local cat population will truly be missed. You can buy her book about a young feral cat called "Sterling's Secret" on Amazon. All money goes to Almost Home Feline Refuge. www.almosthomefelinerefuge.org.
---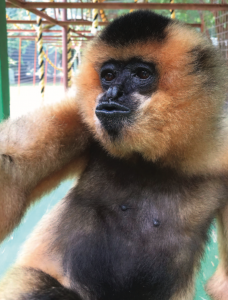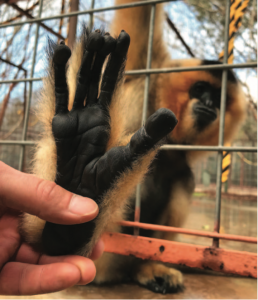 This past fall, The International Primate Protection League (IPPL) in Summerville lost one of their dearest Gibbons, Tong, who lived to the grand old age of 50.
As a baby, Tong was purchased at a market in Cambodia by a man working for Air America, a CIA operation which flew planes on bombing missions over Laos and Cambodia. The pilot then brought her to his home in Bangkok to keep as a pet. When he was returning from Thailand to the US, he was caught at Chiang Mai Airport in Northern Thailand.
Thai authorities allowed him to board his plane, but let his servants take Tong with them. After a few weeks, the servants got a job with Ann Williams, the First Secretary of the Australian Embassy in Bangkok. She allowed them to keep the little gibbon in the servants' quarters and became involved with her care.
When Wlliams was transferred to the US Embassy in Rangoon, Burma, she asked if IPPL would adopt Tong, which the organization did. This was in 1974. Tong made the trip to Summerville and has lived happily at this magical sanctuary ever since.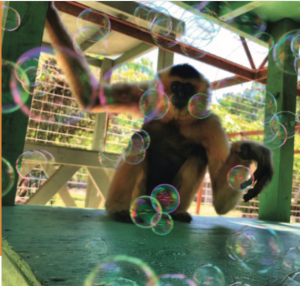 Tong had two partners, Brownie and, more recently, Gibby, who is now an amazing 60 years old. Tong fell ill with pancreatitis.
Despite the efforts of veterinarians, including several specialists, she left us on September 29th. She was buried in IPPL's lovely gibbon graveyard.
Tong was unique. She belonged to a different species than the 31 other gibbons at IPPL. She was a Gabriella gibbon and her colors, and her voice were completely different from the other gibbons here. She was born gold, then turned black at around one year of age. Then, at five years of age, she gradually turned gold with a black cap.
Her songs ended with a trill which made her the star of the gibbon choir. Male gibbons do not sing like the females. The other IPPL gibbons' calls end with a series of loud rising calls followed by a falling call.
Tong was the last of the four gibbons I brought back from Thailand so many years ago. Her presence is already missed but the memories of this special little gibbon will remain forever.
Learn more about the IPPL in our Fall 2018 issue or visit www.IPPL.org.