ARTICLE AND PHOTOS BY JEANNE TAYLOR / JTPETPICS.COM
Editor's Note: Usually we count on Jeanne Taylor to bring amazing photos to Carolina Tails. This time, she agreed to go above and beyond and experience Goat Yoga for all who only dreamed of having a goat jump on their backs during "Downward Dog."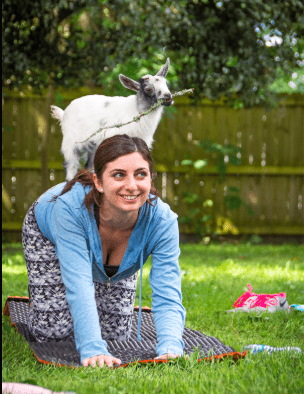 Two things I had never done before today were: (1) Yoga and (2) GOAT YOGA.
When a friend and I were talking about baby goats and goats in pajamas, the conversation took a natural turn to Goat Yoga. I did a quick Google search and found a location nearby that not only offered Goat Yoga but included a beginner level so anyone could attend and enjoy.
There are many things that may cross your mind when you imagine Goat Yoga. Farm animals often have their own ... aroma. Does it smell like a farm? Goats like to butt heads – is it dangerous? Will I be doing yoga poses on a barn floor?
NO HEAD-BUTTING PLEASE
The answers to these burning questions were actually laid out on farmhouse in Summerville, that is under DIY renovation and the property is more than sufficient to allow for a large group.
There was also plenty of space for the goats to comfortably roam and participate. There was a small faux-barn area where the chickens and goats feed, but there was nothing that overwhelmingly said, "Farm animals live here."
When we arrived, we were first greeted by our host, Jenna, and her beautiful one-year old Great Pyrenees, Winter. We then met Yoga Joe, who was holding two-week old kid, Azalea, an adorable, pint-sized baby goat.
As we laid out our mats, the goats knew what to do. Joe offered an introduction, and Jenna told us a little about the goats' backgrounds. During this time, the adult goats (Magnolia and Wisteria) gave a quick show running around, occasionally head-butting each other, stopping by the mats to check in and see who may have treats, and grazing on piles of foliage that were set out for their snacks.
The baby goats ran in a zig-zag pattern, jumping sideways, leaping over raised beds and checking in periodically for selfies with the attendees.
ASSUME YOUR ASANA
Once the class started and people began their poses, the baby goats became ornamental and hopped atop the attendees during any pose that offered at least a mostly flat back. I had the interesting and entertaining experience of a five-week old baby goat named Camellia hopping up on me during a Cobra Pose. It was challenging to hold the pose knowing there was this adorable creature walking around on my back and legs, but only because I really wanted to flip over and play with the baby goat!
The host also periodically retrieved the babies and carried them to different mat areas to make sure everyone had some time with them.
The class lasted for an hour of actual instruction, during which time we breathed in the spring air on a beautiful Lowcountry day, we laughed, we stretched, and we relaxed. Once the class concluded, there was a Goat Happy Hour, where you could visit with the animals in a more concentrated way, take photos, and learn about some of the homemade items they sell such as soaps, candles, honey and other home décor. Jenna also brought out a bushel of baby chicks who were recently hatched, rounding out the full small-farm experience.
This is definitely a must-do item for anyone who wants to spend a morning getting back to nature and relaxing in the company of some gentle people and completely captivating animals. For more information, to register, or to arrange a private event, visit www.flowertowncharm.com.