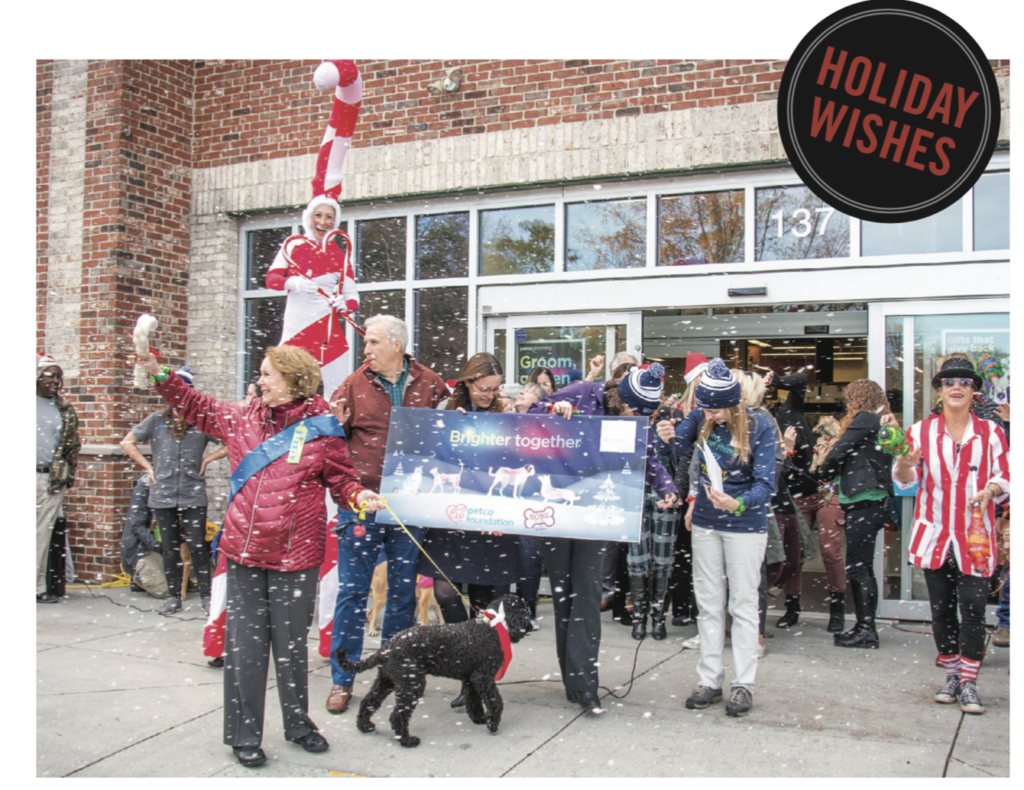 As the "snow" fell in front of Petco in West Ashley, Irene Holland and her dog Donald celebrated the unveiling of the $10,000 Petco Foundation grant her story won the animals at Charleston Animal Society.
(Photo Jeanne Taylor / jtpetpics.com)
IT WAS LIKE A SCENE OUT OF THE
North Pole: two giant candy canes leading a parade of dogs and people as they parade/paraded to the Petco Store in West Ashley, dancing to holiday music!
It was all part of Holiday Wishes, sponsored by the Petco Foundation on December 12. Two Charleston Animal Society adopters submitted stories about how their animals have changed their lives — and out of more than 4,000 entries, both entries won prizes!
IRENE AND DONALD
Irene Holland, a widow who recently moved to Charleston, sent in a story about how adopting her senior dog, Donald, has brought her the companionship she was searching for. Donald is completely blind! Irene's story won Charleston Animal Society a $10,000 grant from the Petco Foundation.
You can read more about Irene and Donald in the Winter 2019 edition of Carolina Tails.
TED AND CAITLYN
Ted Corvey shared the story of how, as a prosecutor handling the high-profile animal abuse case involving Caitlyn the dog, he and his wife ultimately had the chance to adopt Caitlyn. Now, she completes their furry family. Caitlyn's story won Charleston Animal Society a $1,000 Petco Foundation grant.
Ted told those in attendance that he was glad to share Caitlyn's story again to encourage the prosecution of animal abuse cases around the country.