The Humane Society of South Carolina isn't typical. There's no shelter. No adoptions or fosters. Instead, this organization, located in Columbia, focuses on bringing down animal overpopulation while also investigating as many cruelty and neglect cases around the Palmetto State as possible. Carolina Tails recently had the chance to interview South Carolina Humane Society Executive Director Dawn Wilkinson. She's run the organization since 2018, moving here from Chicago to jump into animal advocacy in a big way.
CAROLINA TAILS: Tell us about the Humane Society of South Carolina, where you're located and what your mission is.
DAWN WILKINSON: We are based out of Columbia and have been in existence since 1902, so probably the second oldest animal organization in South Carolina. Our mission is to end animal cruelty, neglect, and overpopulation. We do not have a sheltering component, instead, we conserve our resources and really focus on the two areas of our mission. We do spaying and neutering and we focus on cruelty and neglect cases all over the state.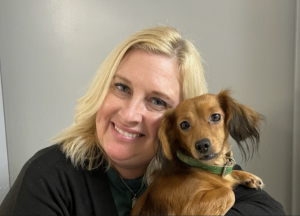 CT: How do you reach out and spay and neuter animals?
DW: We have a stationary clinic in Columbia and mobile surgical units that go out to the areas in the Midlands to do spay- neuter surgery. We typically do 12,000 spay-neuters a year, but due to a shortage of veterinarians, we did 9,000 in 2021.
CT: Through their No Kill South Carolina 2024 initiative, Charleston Animal Society held two statewide spay-neuter blitzes last year, bringing in vets from out of state, spaying and neutering more than 700 animals across 11 different counties so the animals could be adopted. Do we need to see more vets step in to help?
DW: We do, and I just wanted to thank Charleston Animal Society and No Kill South Carolina 2024 for their support of our organization and animal welfare in total. I have certainly appreciated Joe [Elmore] and the No Kill South Carolina Team for their support and mentorship as we all come together for the betterment of all the animals in the state.
CT: How is the Humane Society of South Carolina helping in the fight against cruelty?
DW: We assist and help law enforcement with complaints of cruelty and neglect for all animals. And those complaints come from all over the state of South Carolina. A lot of the neglect that we see is caused by a lack of education and a lack of resources. So, we aim at helping with that education piece and the resource piece, by educating the pet owner on how to humanely keep their animal. A lot of this is generational, and we try to be a resource and teaching things like why good sheltering for a dog is important or why a dog shouldn't be tethered all day long.
CT: People can report cruelty or neglect concerns right on your website?
DW: Yes, our website (HumaneSC.org) has a submission form where they can submit complaints of cruelty that they see. We get between 100 – 150 complaints per month. It's important that if anyone sees instances of cruelty or neglect to any animal, and we get 'em for all animals, horses, cows, goats, pigs, cats, and dogs that they send it to us. It's like a weather spotter out there. We love to have cruelty and neglect spotters out there, because when it's reported, it is at least sent out to be looked at.
CT: What are the challenges facing your mission in 2022?
DW: Our biggest hurdle that involves solving the overpopulation part of our mission. There is a lack of spay neuter access to rural areas.
CT: Anything else you feel is important to point out that you'd like to let the public know about the Humane Society of South Carolina?
DW: We strive to let our community know that we are here to assist them. We can attach them to resources that we know are out there to be able to help them. Instead of abandoning that animal or letting that animal go or neglecting the animal, call us and we will work with you on obtaining what resources are needed. To help with our mission, you can go to HumaneSC.org.