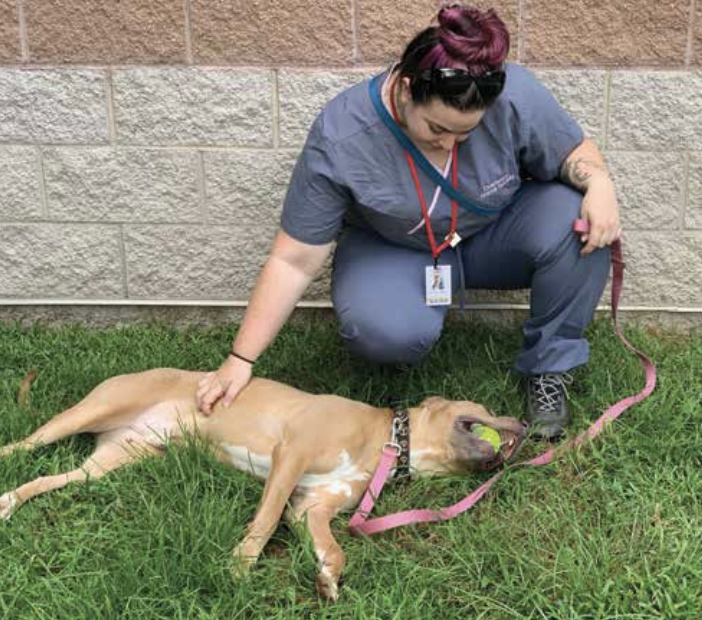 By DAN KROSSE
Treating behavior in cats and dogs is a "new frontier" in animal sheltering. "We treat animals with medical issues based on the generosity of our donors," said Charleston Animal Society President and CEO Joe Elmore. "Now it's time for an evolution as we add the treatment of behavior, an issue that isn't always black and white."
Thousands of animals across the country are euthanized every year because of behavior issues. When an animal exhibits aggression or other dangerous behavior, it is unknowingly making adoption difficult if not impossible, depending on the level of aggression. Humane euthanasia is sometimes the only answer to keep people and other animals safe.
"The bottom line for any animal we adopt at Charleston Animal Society is safety," said Elmore. "Safety for the animals, safety for the family that it might go into, safety for the staff and volunteers who are working with the dog or cat."
LAZIN ANIMAL FOUNDATION TO THE RESCUE
Now, thanks to a generous grant from the Lazin Animal Foundation, Charleston Animal Society will be able to save more animals with behavior issues.
The Lazin Animal Foundation Behavioral Transition Center will allow behavior staff to pour extra time into the most challenging cases. "Some behavior can be turned around, but it takes time. A lot of time and patience," said Charleston Animal Society Director of Behavior Donya Satriale. "This transition center will allow us to take the time we need to focus on the animals that can be saved."
The Behavioral Transition Center will be located at the Bear Greer Cat Memorial sanctuary in Ravenel – and both cats and dogs will be treated in this new, multi- purpose facility.
EXCITING FUTURE AHEAD
"We're very excited about how this
will evolve over the next few years and hopefully to the point where we can get into a multiplier effect," Satriale said. "As other shelters in South Carolina elevate their capacity to work with behavioral challenges, we can help support them, train them, mentor them just as we have been helped by some of our behavioral partners at the national level." The Lazin Animal Foundation
Behavioral Transition Center will include a clinic, office, support area, cat community room, and kennels for about six to 10 dogs. Staff and volunteers will operate the facility.
Terry Lazin, who founded the Lazin Animal Foundation passed away from ovarian cancer in 2015. This gift to Charleston Animal Society will be one of the final gifts from the foundation as it closes. "We are honored to carry forward the legacy of Terry Lazin and all of the great work that she did," Elmore said.