Never in our lifetime has anyone seen a hurricane season at the same time as a pandemic.
As Hurricane Dorian approached the east coast last year, Charleston Animal Society evacuated 332 animals out of harm's way. (Photo by Aldwin Roman)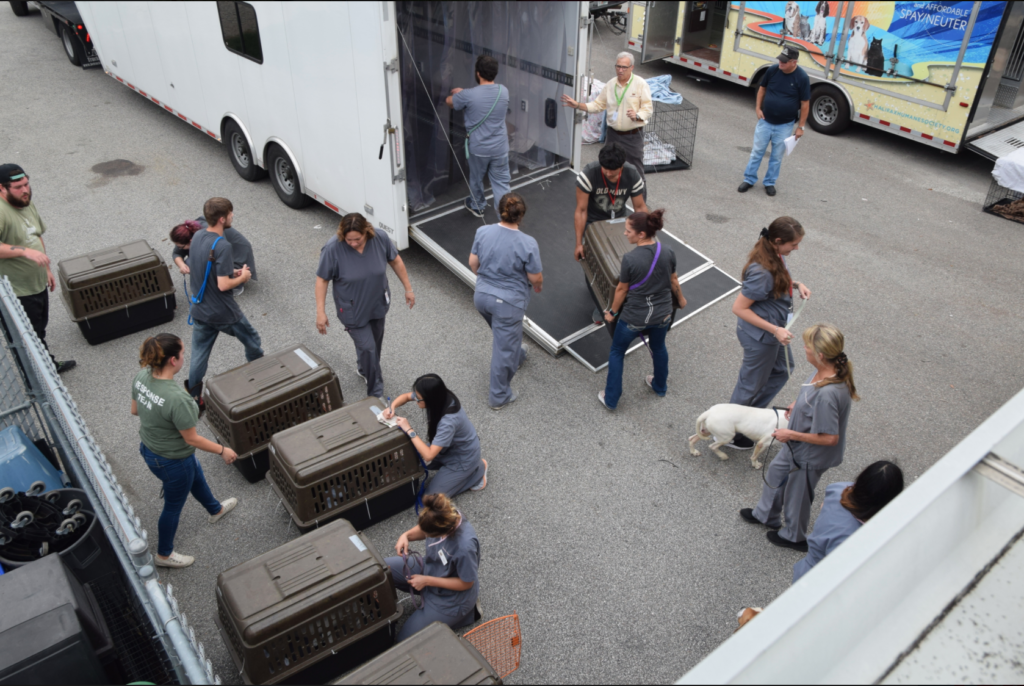 By ALDWIN ROMAN, CAWA
SOUTH CAROLINA IS FACING AN unprecedented challenge. Despite the best efforts of state and local leadership, the COVID-19 virus is surging in our state; as of June 1st, the Atlantic Hurricane season officially started. South Carolina is no stranger to hardship. We can get through this but we must be vigilant and we must be ready.
In the last five years, South Carolina has faced an onslaught of storms.
• 2015: Hurricane Joaquin never made landfall, but it left our state with flooding like we have never seen.
• 2016: Hurricane Matthew was weakened when it hit South Carolina but it left behind a path of destruction.
• 2017: Hurricane Irma and Maria both threatened our state.
• 2018: Hurricane Florence and Michael devastated the Pee Dee region with flooding. • 2019: Hurricane Dorian rode all the way along the coasts of Florida and South Carolina.
These past five years prove that we have to take hurricane season seriously – and get ready now. The National Oceanic and Atmospheric Administration's (NOAA) Climate Prediction Center is forecasting an above-normal season this year: 6-10 hurricanes, with 3-6 of them becoming major hurricanes.
The Impact of the Coronavirus
Because of the unknown factors surrounding COVID-19, South Carolina Governor, Henry McMaster, has announced that evacuations this year would be called sooner than in previous years. This will allow more time for people to leave and more time for officials to handle the complicated situations brought up by the virus.
With the coronavirus upon us, state and local resources will move slower and be stretched thin. Health, safety, and social distancing guidelines will still need to be observed even during a hurricane evacuation. It's imperative that we as citizens are prepared and safe so we do not become an additional burden on our local governments or health facilities.
Putting Yourself at Risk Puts Many Others at Risk
First and foremost, if a mandatory evacuation is ordered take your pets with you. If you decide not to evacuate, know that if things turn for the worse rescue teams may not be able to help you without risking their lives. And if they are able to rescue you, they may not be able to save your pets.
Put Your Plan Together Now
• Make sure your pet has their medical needs met
• Many veterinary clinics cannot see as many pets as normal while abiding by social distance safety guidelines. Don't wait until the last minute to get your pet a check-up. Make an appointment now.
• Make sure you have filled prescriptions (at least a two-week supply is recommended)
• Make sure necessary vaccinations are up to date. Rabies is required by law.
New Supplies under COVID-19
In addition to the necessities for your pet, under COVID-19 there are some other supplies you should consider packing:
• Face masks
• Disposable gloves
• Hand sanitizer
• Disinfecting wipes
• Trash bags
Pet Supplies
• Dry or wet dog food for 3-7 days
• Toys and blankets/bedding
• A plastic airline crate for cats or smaller dogs
• Printed or easily accessible digital veterinary records
• Several recent pictures of your pet to be used for identification in case you are separated.
Plan Your Evacuation Destination
• Don't assume plans from previous years will work this year.
• Hotels have new guidelines under COVID-19 so call ahead. Some may have changed their policies and no longer allow pets, while others may have flipped and accept pets they previously would not allow.
• If you are evacuating to another state, make sure you are aware of the COVID-19 guidelines in that state.
• If in previous years you had stayed with a family member or friend, make sure they are still on board with your plan since so much has changed with the virus.
Make plans for all pets, not just dogs and cats
• Small household pets like hamsters, guinea pigs, rats, fish, reptiles, ferrets, etc. should not be left behind. Make appropriate plans to evacuate with them or find a caretaker.
• Horses and livestock should not be left to fend for themselves. Clemson University Livestock Poultry and Health has resources for livestock owners.
Aldwin Roman, CAWA, is Charleston Animal Society's Chief Strategy Officer.