Charleston Animal Society teaming up with Petco Foundation to launch facial recognition software for pets.
By DAN KROSSE
IT WASN'T A GOOD DAY FOR CHARLES SOHLGREN.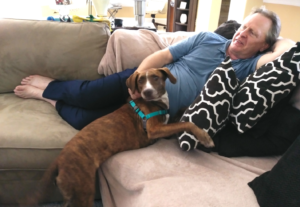 He'd forgot his phone at home in Myrtle Beach and had to wait for his wife who had a doctor's appointment in Mt. Pleasant. Because of COVID-19, he couldn't go inside, so he passed the time in his car with their adopted dog Madison.
She's a lab/retriever mix and started getting antsy, so Charles thought he'd take her for a little walk. But as he opened his hatchback, out she flew – through a parking lot and across a field, with Charles chasing her in 75-degree heat.
No phone. No dog. All Charles could do is wait for his wife Carol.
Madison is Found
Charles remembers being nervous to tell his wife what happened, "I put the car between me and her," he jokes.
They quickly got on the phone with Mt. Pleasant police and Charles says they were amazing. "One officer spent three hours searching for Madison," Sohlgren says.
At 10:30 that night, the couple got a call at their Myrtle Beach home that Madison was found and would be taken to Charleston Animal Society. "I was at the shelter, first thing in the morning," Sohlgren says. "Madison was a little dirty, but fine! I was so afraid she'd get hurt."
Carol and Charles' experience is common to anyone whose pet has gone roaming. Losing a pet is stressful and it's a challenge for pet owners everywhere.
Charleston Animal Society helps reunite a lost pet an average of three times a day! Even more shocking: when it comes to cats, one out of four aren't found by their owners, according to a study from the ASPCA.
"A lost dog or cat may be a pet owner's worst nightmare," said Petco Foundation President Susanne Kogut. "We saw a need to improve ways for people to find their pets and increase the number of lost pets reunited with owners. We believe Finding Rover can be the answer."
Technology to the Rescue
FindingRover.org's animal facial recognition technology makes it a snap to protect your dog and cat. It's as though an episode of CSI has come to life. And it's absolutely free.
Here's how it works… if your dog or cat ever goes missing, Finding Rover will do an instant facial recognition search of all pets reported lost in your area.
Within seconds, you'll see a list of found photos with the contact information of the kind person (or shelter) who has taken your pet in.
On the flip side, Finding Rover revolutionizes the process of helping found dogs and cats.
Currently, if you see a lost pet on the street, you may put them in your car, go to a vet or shelter to see if it had a chip, put up posters, etc. Finding Rover can change all that. Simply snap a photo and the website instantly shows you photos of matching pets with the owner's contact info. Contact the owner and you'll be an instant hero! Finding Rover's innovative facial recognition for pets can be used on a smartphone through the app or on the web. The software was developed in conjunction with the University of Utah's Research & Development department.
Sign-Up Now
The challenge with Finding Rover's new launch by the Petco Foundation is getting as many shelters and pet owners signed up as possible.
"We want this to be an amazing user experience for everyone and that means getting as many people signed up as possible," said Kogut. "We are encouraging every shelter to become a partner and every pet owner to upload a photo to this free app."
Kogut says that the Finding Rover technology can be used even after a pet is lost. Just upload a photo and you're in the system!
Finding Rover integrates easily with most leading animal shelter software that is used by shelters across South Carolina and the country. No Kill South Carolina, a program of Charleston Animal Society, is already spreading the word about Finding Rover and encouraging shelters to become Finding Rover Partners.
"We are excited to have Charleston Animal Society leading the way on this effort, because we know South Carolina residents love their pets and we believe this technology will help reunite lost animals with their families," said Kogut.