Updating Your Estate Plans Now Can Help Establish Your Legacy
BY SEAN HAWKINS, CFRE, CAWA CHIEF ADVANCEMENT OFFICER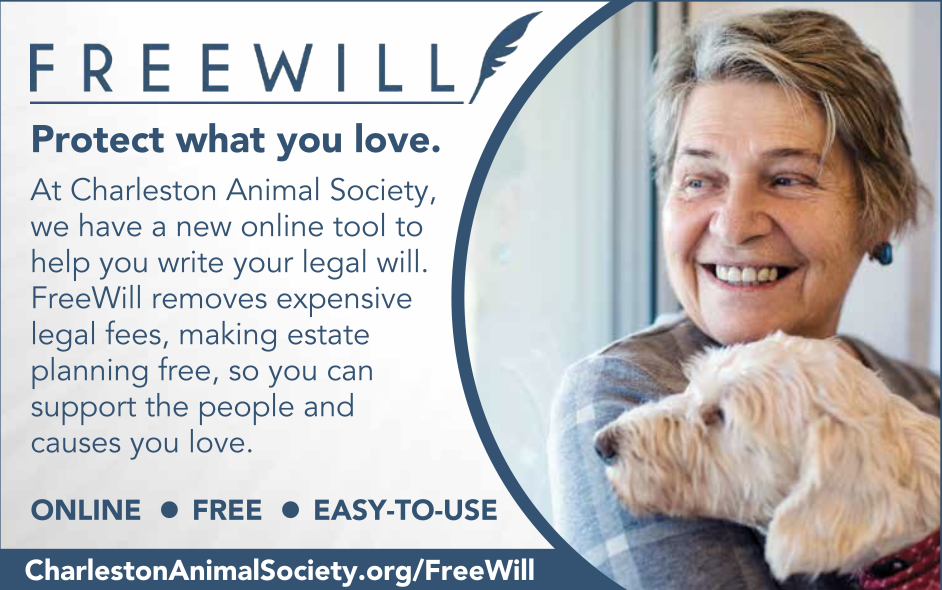 Your story is the greatest legacy that you will leave to your family, friends and community. When you leave a gift to Charleston Animal Society in your will, trust, or through another form of planned gift, you can create a lasting legacy that reflects your caring and compassion for animals. In this current time of uncertainty, many people are creating or updating their wills or estate plans.
Charleston Animal Society has partnered with FreeWill to provide a tool for you to use that creates a legal will that is valid in all 50 states. To get started, go to www. CharlestonAnimalSociety.org/FreeWill. The process to create your will takes about 20 minutes.
There are several different ways to give through a will:
BEQUEST
Leaving a bequest to Charleston Animal Society is rather simple. Indicate a specific amount or a percentage of the balance remaining in your estate or trust documents.
LIFE INSURANCE
Charleston Animal Society accepts gifts of life insurance either as the beneficiary of a policy or as the sole owner and sole beneficiary. This can be an existing or employer-provided policy or a paid-up policy. You can name Charleston Animal Society as a primary life insurance beneficiary or as a contingent beneficiary.
RETIREMENT PLANS
Retirement assets include tax-deferred retirement saving accounts, like Individual Retirement Accounts (IRA), 401(k), 403(b), annuities, Keogh, and pension plans. Gifts from these accounts while you are still living may have withdrawal penalties and may have income tax consequences.
For more information and other ways to set up planned giving options, please contact our Chief Advancement Officer, Sean Hawkins, CFRE, CAWA, at shawkins@charlestonanimalsociety.org.