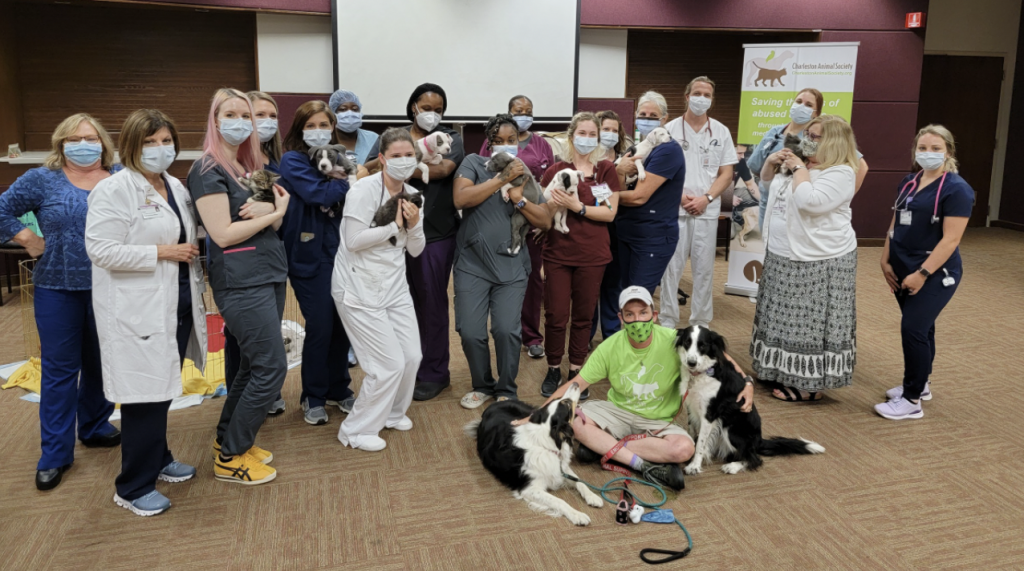 By DAN KROSSE
There was a catch in her throat. Then a battle to fight back tears. Thank God she had a puppy in her arms to help her through the interview. "It's beyond what anyone can imagine," said Dede Carey. Then this amazing nurse felt the need to apologize for losing her composure.
Carey runs the COVID-19 Intensive Care Unit at Roper Hospital in Charleston. Roper is one of many hospitals filled beyond capacity because of the COVID surge from the Delta variant. In an effort to help overworked hospital staff find a ray of light amidst the pandemic, Roper officials wondered if animals could work their magic? They did.
CAN YOU BRING ANIMALS TO THE HOSPITAL?
When Charleston Animal Society Director of Community Engagement Kay Hyman got the call from Roper Hospital – she started rounding up dogs, cats, kittens and puppies almost immediately.
Roper Hospital Chief Nursing Officer Susan Bennett came up with the "Canines for Caregivers" idea – bringing in animals to help staff de-stress. "We wanted to take a few minutes and bring joy to the workday, because it doesn't look like this [pandemic] is going to end anytime soon," Bennett said. "As I look around, I'm seeing a lot of happy faces."
Pet therapy isn't a new concept. It's just usually reserved for the patients. But in these unprecedented times, the dozen or so animals that were brought into a hospital meeting room melted away the exhaustion, the worries and the stress being carried by these frontline heroes – if only for a few minutes. One nurse even adopted a kitten!
Now it was Hyman's turn to brush away tears as she took a moment to personally thank the hospital workers who were coming in shifts to see the animals, "We want you to know that we think
of you often and we care about you. We hope that this little bit of sunshine and puppy breath will help invigorate the rest of your day and let you know that we love you."
The animal brigade was so successful, that Roper scheduled three more visits with Charleston Animal Society animals. Two other area hospitals have also reached out for similar events.