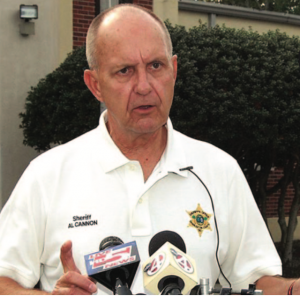 Al Cannon was Charleston County's Sheriff for 32 years, advocating for animals throughout three decades.
AFTER 32 YEARS IN OFFICE, Charleston County Sheriff Al Cannon lost his election in November. As he begins his new life focused on his wife and family, including his two dogs, we wanted to look back at why Cannon advocated for animals so passionately over his three decades in office.
CT: Why are animals so special to you?
Al Cannon: One of the things I did was I brought my dog to work with me a lot. I had a black lab, Dixie, for about 10 years and she was magnificent. Then I got a black female German shepherd, Miss Priss. She is prissy! She has a very calm temperament, very gentle, does not have a great deal of drive beyond just obedience. And there is nothing that beats having an obedient dog.
CT: Why are you so proud that you started the K9 unit for Charleston County?
Al Cannon: Well, I feel like they make a tremendous addition to a law enforcement agency's capability. In fact , we just received a K9 that will assist in finding electronic devices. Now, when deputies go out with search warrants on child pornography, for example, they'll search out hard drives and cell phones and tablets, computers, SIM cards, you name it.
CT: You also co-sponsored and hosted the first series of trainings leading to the credentialing of animal control officers as cruelty investigators. Why was that important?
Al Cannon: The training, to be honest with you, is just part of the bigger picture of what we tried to do at the Sheriff's office in terms of keeping our people current on areas that we felt were important and certainly animals and relationship with people, is a huge part of our daily lives and lifestyles.
CT: Charleston County was one of the first agencies to make sworn, officers Animal Control Officers (ACO). Why did you make that decision?
Al Cannon: We made them into full-fledged, deputy sheriffs, so they can pursue the cases that they handle all the way through the criminal justice process. When you put people in there who are animal lovers themselves, they are much more motivated and they can take a case and run it all the way to the conclusion That is much more efficient and, it translates into a much better prepared case. They also educate the other deputies. I think the deputies recognize them as equals and they certainly are in every respect.
CT: Through your 32 years in office, you've consistently supported Charleston Animal Society, including the pursuit of animal cruelty cases. What's that been like?
Al Cannon: We had a number hoarding cases that stick out to me. As well- intentioned as they might have been, those are cases that have been pretty hard to see how neglected the animals end up being in that kind of situation. Working with Charleston Animal Society has been a very good and a positive experience and we have a close relationship. I've helped on and enjoy the chili cook-off that I was asked to be involved with as a judge and thoroughly enjoyed that. I have supported the programs that the animal society has developed.
CT: You really moved the ball forward as far as organizing hurricane shelters and using ACO' so that people could bring their pets safely.
Al Cannon: Right. And I think when you look at them, they are a reflection of a Sheriff's office, that recognizes the importance of animals in our lives and our responsibilities to do our part and keep them safe and not abused.
CT: Readers are going to want to know how you are, how things are going and what's next?
Al Cannon: You know, people come up to me and they will say, "Hey Al, how you doing? I haven't seen you in a long time." And I say, "You sound like my wife." Those years have passed by when I stayed out late working. So, for now, I've taken some time off during the holidays and spent time with my family, including my grandchildren.
CT: And Miss Priss?
Al Cannon: She's here with me now. I mean, it's just amazing to have an animal that is obedient, and she's just a joy. My wife has a little toy schnauzer, and she's actually a week older than Priss. And so, she's the elder sibling and they get along very well.