By BECCA BORONAT
NO KILL SOUTH CAROLINA HAS
named Laurens County Sheriff's Office the recipient of their first-ever Lifesaving Award. In fact, the award was created specifically to acknowledge the extraordinary work of Laurens County's entire animal law enforcement team.
Since 2019, the Laurens County Sheriff's Office has saved more than 1,150 animals from inhumane conditions. All of it done in their fight to end cruelty.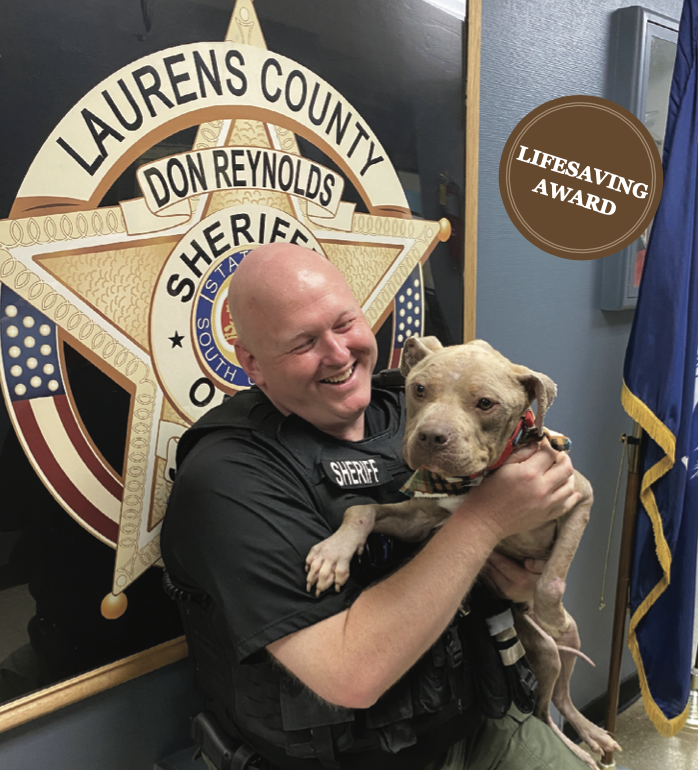 Sgt. Geoff Brown with the department is also the winner of the Stop Puppy Mills Hero Award, given by the Humane Society of the United States (HSUS). He was the lead investigator on a puppy mill case that resulted in the seizure of over 270 animals in February 2020. You'll recall many of those dogs were taken in by Charleston Animal Society and are living happy lives around our community.
"Sgt. Brown is setting an example across our state of how Animal Control and the Judicial System can work together to do what is truly best for the victims of animal cruelty," said Dr. Kim Sanders with Anderson County PAWS. "He works closely with the courts and shelters to increase awareness of state laws that allow these animals to be placed into homes rather than sitting in shelters."
Brown says he's been able to combine his background in law enforcement, several years of animal welfare and behavior experience, plus a deep passion for animals, to find ways to successfully enforce laws and prosecute cases.
One key change was Laurens County changing their Animal Control Officers (ACO) from "code enforcement" to "law enforcement."
"The biggest support I got was from Sheriff Don Reynolds. When I came, there wasn't a relationship between ACOs and the Sheriff's Office, but we immediately formed a working relationship," Brown said. "His decision to make us deputies was extremely valuable because it gave us the support to prosecute cases and to make sure the animals are moved to safe places."
Brown also complimented the support of Major Chris Martin and the Laurens County Council.
TEAMWORK MAKES THE DREAM WORK
Teamwork around the state is another factor in Laurens County's success according to Brown. He says the support of No Kill South Carolina 2024, Anderson County PAWS, Friends of the Union County Animal Control & Shelter, HSUS, and other local rescues have made everything possible.
"We are a very small county with a 48- run animal shelter. Without collaborations, we wouldn't be able to take all these animals. This is a team effort and includes all the staff that works with us and all the partnerships outside our agency as well," Brown said.

Building relationships and not being
pushed aside is important in the fight against cruelty, according to Brown. He encourages other counties to invite their prosecutors to meetings to show them the cruelty plan and convince them that you are willing to put in the effort to build successful cases.
WHAT YOU CAN DO TO FIGHT CRUELTY
As for the community, "If you see something, say something, that is the biggest thing," Brown said. "ACOs can't be everywhere at all times, so we need the community to let us know if they're concerned about an animal."
Brown also has advice for those considering buying an animal from a breeder. Always go in person and if you are not allowed to see where the puppy is living, or if you get a sick one, those are both red flags and you should report the situation to law enforcement. Reputable breeders will let you see the conditions in which their animals are being raised.