GREENVILLE COUNTY ACHIEVES NO KILL STATUS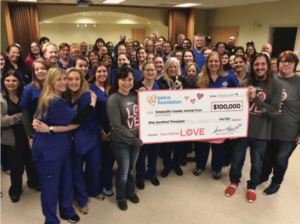 Greenville County joins Charleston County as the second No Kill Community in South Carolina, thanks to leadership of Greenville County Animal Care.
What does it mean? More dogs and cats are being saved through strategic animal sheltering practices and community engagement. Greenville's efforts caught the eye of Petco Foundation who awarded them a $100,000 grant for "delivering love."
No Kill is not about the policies and programs of an organization working alone. But instead, it's about community- wide animal control policies involving municipal facilities and animal control agencies along with rescues and individuals.
Greenville is the largest county and has the second- highest animal intake in the state.
"This is a triumph, not only for the shelter, but for the entire Upstate," said Abigail Appleton, the Director of No Kill South Carolina. "Through hard work, this community has turned a dream into reality."
With the help of No Kill South Carolina, a program of Charleston Animal Society, many other counties are following strategies that could one day turn all of South Carolina into a No Kill state.
CHINA RECLASSIFIES DOGS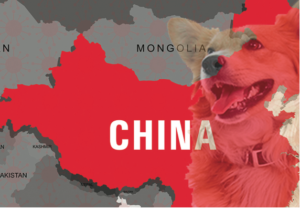 Almost 30 million dogs are killed each year for meat in Asia according to the Humane Society International (HSI). This happens even though people are warned of health risks, including rabies.
But change could be coming. After the coronavirus outbreak, China announced new guidelines on which animals can be bred for eating – and dogs were reclassified from "livestock" to "pets."
HSI hopes this change will encourage more cities to ban the practice of eating dogs. Earlier this year, the major Chinese city of Shenzhen banned dogs from consumption.
While dog meat remains a delicacy in some parts of China, it is becoming less popular.
SOUTH CAROLINA SHOWS MAJOR INNOVATION!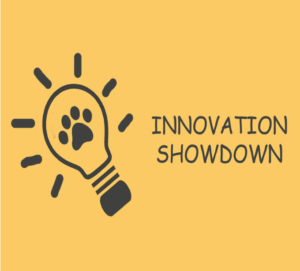 South Carolina was well represented in the 2020 Petco Foundation Innovation Showdown. The contest encourages ideas that will change the landscape of animal welfare.
Modeled after Shark Tank, participants seeking funding to save animal lives present their best lifesaving animal welfare ideas to a panel of Innovation Investors who represent 10 leading national animal welfare organizations and foundations.
All 4 Paws Vet Clinic from Pawley's Island was the big winner, with investors awarding $230,000 for their "Vet Clinic in a Can" concept. Their idea involves using old shipping containers to house cost-effective veterinary clinics to make spay/neuter surgeries safe, affordable and accessible within their community and across the nation.
Greenville County Animal Care ($95,000) made the finals by winning the public vote. Their idea is an app to help pet adopters called "Pet Impressions."
The third finalist was Kitizen Science from Kansas ($175,000 winner). Their idea is to use a citizen science program that leverages volunteers as data collectors to conduct research on community cat populations to prove the lifesaving impact of spay/neuter programs.
HUGE SPRING PET FOOD DISTRIBUTION A SUCCESS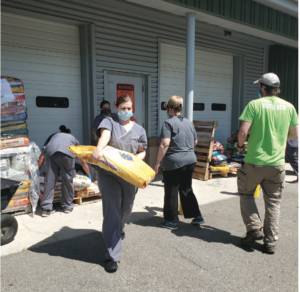 In just eight days, Charleston Animal Society distributed 15-tons of pet food and more than five-tons of cat litter to eight different rescues and shelters across South Carolina. This massive effort began April 30th when the GreaterGood organization sent one of their Rescue Bank trucks filled with the pet supplies to Charleston Animal Society. It was part of the GreaterGood Food Grant-COVID -19 Response. Rescue Bank is one of the Signature Programs of GreaterGood, it provides support to shelters and rescues
across the nation in times of need.
Charleston Animal Society has worked in years past with GreaterGood to act as a
supply hub for our state during disasters — and once again for the COVID-19 response. "GreaterGood has been an amazing partner through the years, providing support to our state during hurricanes" said Charleston Animal Society Chief Strategy Officer Aldwin Roman, CAWA. "Now, in the middle of a national health emergency, they are
once again partnering with us to help animals across South Carolina."
As soon as the supplies arrived, Charleston Animal Society staff was quick to start
reaching out to organizations in our community and beyond to offer a helping hand.
Receiving organizations included:
• Dorchester Paws (Dorchester County)
• Berkeley County Animal Center (Berkeley County)
• St. Frances Animal Center (Georgetown County)
• Marlboro County Animal Shelter (Marlboro County)
• Hallie Hill Animal Sanctuary (Charleston County)
• Feline Refuge (Huger)
• Rainbow's Edge Animal Refuge (Jasper County)
• New Beginnings Shepherd Rescue (Orangeburg County)
A big thanks goes out to United Rentals for providing the forklift and Palmetto Craftsmen for providing the forklift operator!
R.I.P. ISABOO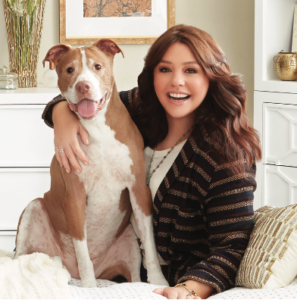 Television personality and animal advocate Rachael Ray lost her beloved dog Isaboo on May 20. Isaboo died in Rachael's and her husband John's arms.
Rachael posted this powerful message on Instagram: "If you have room in your heart, your home, and your budget, I say from experience that bringing an animal in need into your home can help you become a better human being."
2020 CHILI COOK-OFF CANCELED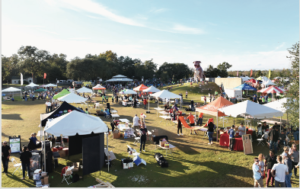 Chili fans will be disappointed to learn that the 2020 Charleston Animal Society Chili Cook-off & Oyster Roast is being canceled due to COVID- 19.
Typically held the Saturday before Thanksgiving, the cook-off normally has 75 teams spread out across Riverfront Park that runs along the Cooper River on the Old Navy Base. But with attendance expected near 5,000 people, the event had to be canceled due to COVID-19 concerns.
"We look forward to bringing this great Lowcountry tradition back in 2021," said Charleston Animal Society President & CEO Joe Elmore. "Safety is always our top priority and we sincerely appreciate everyone's understanding, as we did not make this decision lightly."
Sponsors who still want to find ways to support the animals can contact Charleston Animal Society's Chief Advancement Officer Sean Hawkins at shawkins@charlestonanimalsociety.org.