By Casey L. Taylor, JD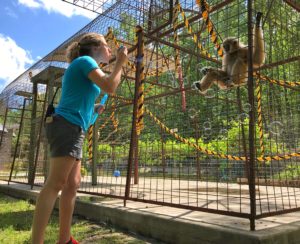 Tucked away near Summerville, SC – the place known as "Flowertown,  USA" – is a sanctuary dedicated to gibbons (small apes). It's a jungle-like wonderland that has lifesaving at the core of its mission.
The International Primate Protection League (IPPL) sanctuary is a secret to many locals. It is situated on over 40 acres of land surrounded by lush woods. Neighbors are lucky enough to hear the songs and great calls of these interesting primates throughout the day and night.
The sanctuary is home to 36 gibbons, the smallest of the apes, who have been rescued or retired from laboratories, deplorable "roadside" attractions, or the pet trade.  IPPL provides lifetime care to these incredible endangered species and works to educate the community on the plight of gibbons in the wild.
The gibbon residents at the sanctuary have indoor night houses that are hurricane-grade, expansive outdoor habitats, and aerial walkways that give them the choice to safely move about their designated areas as they wish.  It is important to the organization that each sanctuary resident is given as much freedom of choice as possible in a captive environment, while keeping them safe.  Despite most residents having a rough start to their lives, they thrive at IPPL.  They even have some residents nearing the age of 60!
International Outreach
IPPL is a grassroots nonprofit organization dedicated to protecting and preserving the world's remaining primates, great and small.  For the last 45 years, IPPL has made a global impact by securing an export ban on primates from Thailand (saving thousands and thousands of lives) and working with over 20 reputable primate rescue and rehabilitation centers in Southeast Asia, Africa, and South America.
IPPL not only supports their efforts to care for native primates who have been rescued and are in need of rehabilitation or lifetime care, but also to thwart poachers and illegal wildlife traffickers, as well as educate local villages and communities on how they can help be part of the solution in preserving native populations of primates.
Small Team, Big Impact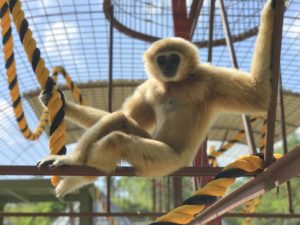 With a small but mighty team of animal caregivers, maintenance technicians, office staff, and dog nannies, IPPL provides compassionate lifetime care for every resident, which includes nutritious and delicious fresh produce three times a day for the gibbons, as well as veterinary care and enrichment — to stimulate those intelligent minds of theirs!
Forms of enrichment vary from food puzzles that the gibbon must figure out in order to get their healthy treats, to special time with their favorite caregiver.  Bubble-blowing is a big hit with some of the gibbons.  Tong, who was one of the first four original residents at the sanctuary, loves a good foot rub — what girl doesn't?
Absolutely nothing beats a life in the wild, but for these residents that is sadly not a reality. The team at IPPL feels that the least they can do is make the rest of these individuals' lives the happiest and healthiest they can be. From residents used in invasive human vaccination studies and locomotion tests, to those kept in less-than-favorable conditions, IPPL's sanctuary is a safe and loving place for them to thrive and   to live as gibbons should.
Casey L. Taylor, JD is the Executive Director of IPPL.
MORE ABOUT IPPL
The sanctuary is not open to the public as an attraction, but it holds educational events in the community and offers options to visit during special times.  Sign up to receive their e-newsletters on their website (www.ippl.org) and be the first to know about opportunities and events.