In late September 2022, before Hurricane Ian bore down on the Southwest Florida coast, Charleston Animal Society sprang into action. 80 cats and kittens were brought to Charleston Animal Society from the Humane Society of Naples, and the Collier County Domestic Animal Services in Florida. Both shelters were in the direct path of this monster hurricane. 
Once the cats were safe in Charleston, other shelters around the state stepped in to transport many of the cats to their shelters for adoption. These supporting shelters included:
Beaufort County Animal Control
Oconee Humane Society
Greenville County Animal Care
Greenville Humane Society
Albrecht Center SPCA (Aiken)
At the same time as the cat rescue, Charleston Animal Society deployed a team and evacuation trailer to Birmingham, AL to transport dogs evacuated from Citrus County, FL to Northern Virginia, at the request of the Bissell Pet Foundation.
Then as Ian made a South Carolina landfall in the Lowcountry, Charleston Animal Society helped evacuate more than 12 animals from St. Frances Animal Shelter in Georgetown.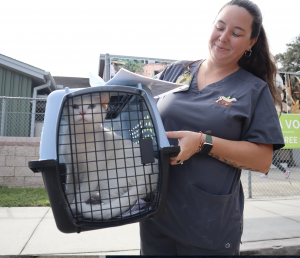 "Charleston Animal Society is one of the southeast's leading disaster response organizations and has formed working partnerships with shelters across the southeast," said Charleston Animal Society Emergency Response and Preparedness Manager Bryant Taylor. "These shelters, primarily in Florida, have a history of responding to South Carolina's disaster needs as they arise, making this partnership a model for other states."