By DAN KROSSE
BRIAN ROSS WAS HOMELESS. HE LIVED
in a tent behind the Food Lion in Ravenel, just off Highway 17. Despite his struggles with mental illness, drugs and a heart condition, his dog, Happy, was always by his side – until the very end.
Loretta Redwood shopped at Food Lion and became friends with Brian, even buying him his tent when she saw him sleeping in the rain during one of her grocery runs from Cottageville, 20 miles away. She's the person who found Brian's body, two days after Christmas, lying in his tent in the woods, with his grandmother's Bible on his chest. Outside the tent, patiently waiting for Brian, was Happy.
"Brian touched a lot of hearts," Redwood said. "I miss him. I'd love for him to still be there. People cared for him. They really did."
More than three dozen people came to his memorial service, held behind the Food Lion, and shared stories and memories of Brian. Redwood's husband and his friend built a cross to memorialize Brian.
HAPPY AND BRIAN
People who knew Brian say wherever he was, there was Happy too. Before his health declined, Brian would pull Happy in a special buggy attached to his bike.
Redwood would get Brian Ubers for his many trips to the hospital or area clinics for treatment, but before he would go (even times when he needed an ambulance), he wouldn't leave until he was sure someone would watch Happy.
"He found Happy as a puppy and he always kept the little bottle that he fed Happy out of when he was tiny," Redwood says. "That was his partner."
PETS FOR LIFE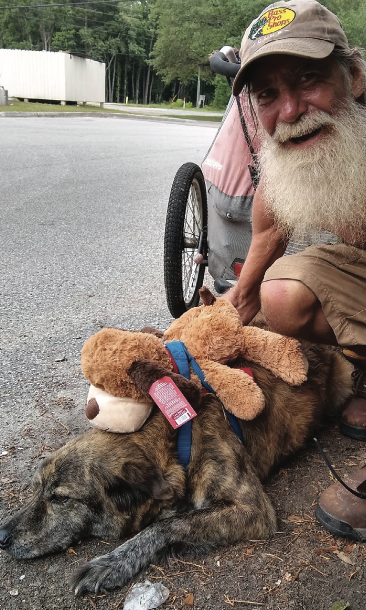 Another of the many people who became friends with Brian was Charleston Animal Society's Pets for Life Director Patrick Allen. Pets for Life is a program that works to keep pets with their families, offering a variety of assistance and in-person contact. Last year the program helped 1,620 people across Charleston County, including Brian.
"Patrick Allen is wonderful. He saw the same things in Brian that I did," Redwood said. "He never made a judgement about him and he loved Happy."
Allen also got Redwood to bring Brian and Happy to a Pets for Life "Helping Hands for Rural Paws" health clinic in Hollywood, where Happy was examined by a Charleston Animal Society veterinarian and received all his vaccines.
When Brian's heart condition flared up, Allen would bring Happy to the shelter for care, while Brian recovered at the hospital.
"From my experience, homeless people take care of their pets as well, if not better than, people who aren't homeless." Allen said. "They are with their pet all day. The fact they give up everything, but not their pets, is a testament to how much they love their animal."
A HAPPY HAPPY ENDING
At Brian's memorial service, there was an uneasy tension. While many people brought toys and blankets for Happy – no one was sure what would happen to the dog. Happy is a senior who had lived with one person his entire life.
The good news is that Happy's future had already been worked out. With his health failing, Brian had opened up to Allen about what would happen if his dog outlived him. After many discussions, Allen agreed to adopt Happy if and when the time came.
After Brian's death, Happy went home with Allen and his girlfriend. Almost immediately, Happy bonded with Allen's cattle dog Ruca and now the two are inseparable. Getting Happy used to the family cat did take a little longer, but that has also worked out smoothly.
"He realized this is his retirement stay. He's one of best trained dogs and he's goofy," Allen said. "He doesn't pull on the leash and when you call his name, he drops what he's doing and comes to you."
As for Brian's memory? Redwood says she misses stopping by the Food Lion and seeing him. She says she's looking forward to meeting up with Allen sometime soon to give Happy a great big hug.