By SEAN HAWKINS, CAWA, CFRE
The battle of the buldge is not just for people anymore! According to a study by the Association for Pet Obesity Prevention, 56% of dogs in the United States are overweight or obese. The 2012 "People and Pets Exercising Together" study demonstrated that a higher percentage of people completed a one-year exercise program when they exercised with their dogs (61% versus 58%). Plus, the dual benefit of the research showed that 5% of the people and 15% of the pets in the study lost weight. Could it be that your dog could be your new best exercise partner?
COUCH TO 5K TRAINING PROGRAM
As part of Celebrity Paws in the Park, we partnered with the health and fitness experts at Roper St. Francis Healthcare to create the first "Couch to 5K Training Program" for both people and pets. The goal of the six or eight week program is for both dogs and their humans to develop an exercise regimen and prepare them to participate in the Celebrity Paws in the Park 5 K-9 Run or Walk together!
The program is a free series of video training segments and downloadable guides with Danielle Greenman, athletic trainer with Roper St. Francis Healthcare, and Animal Planet's "My Big Fat Pet Makeover" dog trainer Travis Brorsen. The materials are all available at paws.charlestonanimalsociety.org under the "Couch to 5K" tab. "Our goal in creating the video series was to provide a fun and easy tool where people working with their dogs can get fit together," Brorsen said.
The Couch to 5K Training Program is generously sponsored by Roper St. Francis Healthcare, the Lowcountry's only not-for-profit healthcare system.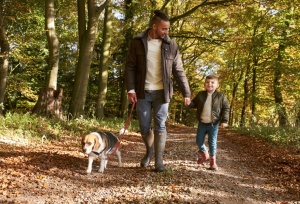 2022 STEP UP FOR SHELTERSTM CHALLENGE
Science has taught us that walking as little as 15 minutes per day can benefit both humans and pets. Not only is it a way to work off any extra pandemic pounds, but walking also reduces stress and boosts your mood. With the 2022 Step Up for Shelters Challenge we can turn your family walks into cash that benefit homeless animals at Charleston Animal Society! The effort is simple. Download the WoofTrax app on your mobile device (available at Google Play or in the Apple App Store). Once enrolled, go to the Challenges Tab and join the 2022 Step Up for Shelters Challenge. Each time you walk, start and stop your walk within the app and our sponsor will donate to Charleston Animal Society, up to $10,000! WoofTrax uses GPS technology to track every walk.
The fundraising initiative was made possible through an innovative partnership with Boehringer Ingelheim Animal Health USA Inc., the maker of NexGard® (afoxolaner) and Heartgard® Plus (ivermectin/pyrantel).
You can learn more by going to Paws.CharlestonAnimalSociety.org and clicking on the Step Up for Shelters tab. You'll find all of the instructions along with a selection of shelter pets that you can choose as your walking buddy in case you do not have a pet at home.
Charleston Animal Society Chief Education Officer De Daltorio wanted to find ways to involve and engage kids not only in fundraising but in lessons that promote the health and well- being of animals.
"Each level you achieve earns a $5 donation to Charleston Animal Society," Daltorio said. "A donation of $5 will feed a homeless puppy. When you earn a $10 donation, you are helping to feed a litter of kittens. A gift of $15 provides a bed or comfy blanket to a homeless animal."
Working with Animal Planet star, celebrity dog trainer and winner of the hit reality show "Greatest American Dog," Travis Brorsen, Charleston Animal Society created fun-filled educational video segments that show the correct way for kids and dogs to walk or run together. The video series, that you can see on the 2022 Step up for Shelters web page, show kids how to be safe and have fun walking with dogs and it helps everyone prepare by having the proper equipment and safety protocols.
Sean Hawkins is the Chief Advancement Officer for Charleston Animal Society.