Petco Love is providing a $1-million Challenge Grant to make the goal happen.
By DAN KROSSE
At its 147th annual meeting on Sunday, March 14th, Charleston Animal Society announced the Palmetto State can be a No Kill State by 2024. The initiative is funded through a grant from Petco Love (formerly Petco Foundation).
The Society's statewide initiative "No Kill South Carolina" now has a timeline and becomes "No Kill South Carolina 2024" to culminate with Charleston Animal Society's 150th anniversary.
AN INITIATIVE THAT'S WORKING
Since No Kill South Carolina began six years ago, animal shelters across the state have saved more than 500,000 animal lives with 30,000 fewer animals euthanized, something unheard of in the South, a region historically plagued with high euthanasia rates.
"Our efforts with No Kill South Carolina over the past six years have made tremendous gains in the fight to save animals in every corner of the state," said Charleston Animal Society President and CEO Joe Elmore, CFRE, CAWA. "The trending shows that we can make this groundbreaking initiative a reality by 2024."
THE PETCO LOVE CHALLENGE
Petco Love has been funding the efforts of No Kill South Carolina since the beginning. Now, with the goal in sight, the foundation is making a $1-million Challenge. "If the organizations in South Carolina work together and achieve the goal of No Kill South Carolina by 2024 – Petco Love will invest $1 million in the lifesaving work of organizations across South Carolina," said Petco Love President Susanne Kogut. "These funds can be used to sustain No Kill South Carolina!"
Since 1999, The Petco Foundation has invested more than $290 million in lifesaving animal welfare work across the country. With more than 4,000 animal welfare partners, the Petco Foundation inspires and empowers communities to make a difference in the lives of animals. Through adoption efforts in more than 1,500 Petco stores nationwide, the Petco Foundation brought more than 6.5 million pets together with loving families. And the Petco Foundation is just getting started.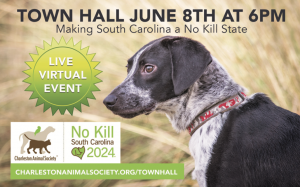 UNDERSTANDING WHAT "NO KILL" MEANS
"No Kill" is a term used in animal welfare that refers to the goal of saving "all healthy and treatable dogs and cats, typically about 90%. No Kill communities do not euthanize animals for space and they use data-driven and research-based strategies to bring euthanasia rates down and improve the quality of care for animals.
The concept of No Kill was introduced as early as the 1970s but gained major attention on the West Coast entering the 1990s with an article entitled In the Name of Mercy penned by Ed Duvin and was later effectively put in action by Richard Avanzino in San Francisco.
"No Kill was introduced in the collective sense, as in building a No Kill nation; however, some animal shelters co-opted the term and proclaimed themselves No Kill shelters for fundraising advantages, making the concept shelter-centric instead of community-centric, which has led to much division in the animal welfare community," Elmore said. "Unnecessary euthanasia, like homelessness, illiteracy, hunger and other social issues are community issues requiring everyone to work together to overcome them."
THE DATA
When No Kill South Carolina was started, 19% of dogs and 47% of cats were euthanized in shelters across the state. Six years later, through effective collaborations, innovative adoption strategies and other leading practices among shelters around the state, the euthanasia rate of dogs has dropped more than half to 8% and the euthanasia rate for cats is down to 18%.
"The progress is amazing, but we still have substantial work to do, especially in saving more felines from euthanasia," said No Kill South Carolina Program Director Abigail Appleton, PMP, CAWA. "None of this would be possible without the amazing input and efforts from shelters across South Carolina."
HOW YOU CAN GET INVOLVED
The No Kill South Carolina 2024 challenge is a great way for everyone to get involved in this statewide effort. "Go to your local shelter and let them know you'd like to help. You can adopt, volunteer or donate and help us all reach this tremendous achievement," Appleton said.
Also, this June, you can participate in the Pick Me! SC statewide adoption event. Also sponsored by Petco Love, this massive adoption push is organized by No Kill South Carolina 2024 and last year helped adopt more than 1,600 animals during their campaign. Learn more PickMeSC.org.
SAVE THE DATE FOR TOWN HALL
Charleston Animal Society will be hosting its first ever statewide Town Hall on Tuesday, June 8th.
The focus of the program is how South Carolina can become a No Kill State by 2024. Go to CharlestonAnimalSociety.org/TownHall for details.