By Dan Krosse
Spring is in the air and that means it's time for Celebrity Paws in the Park, presented by Crews Subaru. Bring your dog and come join the fun at Riverfront Park in North Charleston on March 19th.
People can participate in a competitive 5K race or a leisurely fun run and walk with their dog. Learn how Charleston Animal Society teamed up with
Roper St. Francis Healthcare to get people and their pets outside and moving with
a "Couch to 5k" training program on pg. 13.
After the 5k, families are invited to sit, stay and play all day in six activity zones throughout the park, including dog adoptions, Dock Dogs® diving competitions and health and wellness services for pets, including a vaccine clinic sponsored by Petco Love.
"Celebrity Paws in the Park is an event that unifies thousands of people, at a beautiful venue, Riverfront Park in North Charleston," said Celebrity Paws in the Park Committee Chair Tanya Fitzgerald from Blackbaud.
TEAM FUNDRAISING
Celebrity Paws in the Park is Charleston Animal Society's largest community fundraiser and it's not too late to get involved. Anyone who wants to participate in the competitive 5K, or
the fun run or walk can sign up at Paws. CharlestonAnimalSociety.org.
"Friends of Charleston Animal Society are encouraged to create a fundraising team or fundraise as an individual. Competitors are in both the 5K race and the fun run will win prizes based on their times and organized team themes," Fitzgerald said. "Fundraising teams and individuals will earn prizes based on the amount of funds raised. All money raised will go to lifesaving care to thousands of animals each year at Charleston Animal Society."
TRAVIS BRORSEN ON STAGE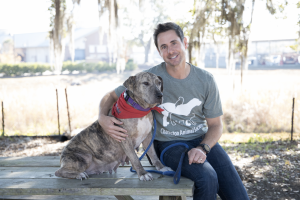 There will also be special stage shows with "Travis & Friends" that will teach kids how to be their best selves around dogs. Animal Planet star, celebrity dog trainer and winner of the hit reality show "Greatest American Dog," Travis Brorsen, will be live on stage for these fun- filled educational segments.
Travis built his career on sharing what he has learned about creating a positive learning environment for dogs and building relationships between them and their families based on friendship, kindness, and compassion. "When Charleston Animal Society asked me to be a part Celebrity Paws in the Park, I could not resist," Travis said. "This is going to be a lot of fun for the kiddos, I can't wait to see people outdoors enjoying life again!"
MORE THAN JUST A 5K
After the 5K people can enjoy a variety of food from the best Lowcountry food trucks and sip on the 2021 winning Rescue Brew Beer. There will also be a Pet Adoption Zone, Health & Wellness Zone, and the Canine Sports Arena featuring the world famous DockDogsTM Diving Competition. Buy a pass and your dog could be selected to dive.
Join us for a full day of family- friendly programming that will include live obedience and working dog demonstrations from the Charleston Aviation Authority K9 Unit and other organizations (Learn more on pg. 14).
THANK YOU TO OUR SPONSORS!
Charleston Animal Society is thrilled to welcome Crews Subaru as the Presenting Sponsor for Celebrity Paws in the Park.
"As an integral part of our Subaru Love Promise to our community, we believe
that people and pets are better together," said Ken French, Marketing Guy for Crews Subaru. "As the 2021 Subaru Retailer of the Year, we support many programs that benefit children, and Celebrity Paws in the Park brings our passions together. We are honored to be the Presenting Sponsor, not only in the inaugural year but for the next three years as Subaru Loves Pets!!"
As of press time, Celebrity Paws in the Park sponsors include: Crews Subaru,
Roper St. Francis Healthcare, Boehringer Ingelheim, Hill's Pet Nutrition, Live 5 WCSC, Charleston City Paper, Charleston Radio Group, City of North Charleston, Vetoquinol, Delaney Oyster Bar, Blackbaud, Charleston Carriage Horse Advocates, Hank and Laurel Greer, Joye Law Firm, World's Best Cat Litter, Blue Blue Shield of South Carolina, Palmetto Brewing Company and Southern
Eagle Distributors.