By DAN KROSSE
Jessica Lichty and Link find their own private sandbar on Folly Beach. (Photo: King & Fields)
THE PAW PRINTS IN THE SAND ARE IMPOSSIBLY SMALL. A Poodle? A Dachsund? Nope, it's just Lovey – the neighborhood cat.
Lovey didn't get the memo that Lowcountry beaches are the fiefdom of dogs. Instead, you'll find this 14-year-old, Maine Coon blend strolling along her stretch of beach on Sullivan's Island — anytime she gets the itch to.
LIFE'S A BEACH
I first heard whispers of Lovey from other dog people I knew. What? A cat walking the beach? This sounded categorically ridiculous.
Then I knocked on Lovey's owner's door and there was Lovey; snuggled on a couch with a beach view behind her, licking the sand out of her paws from her morning walk! I said I'd return at 1pm for the afternoon stroll – and Lovey didn't disappoint.
From one end of the beach Lovey (rescued from an animal shelter) sauntered along the water's edge, eager to rub against a stranger for a petting, even if he was laying in the sand trying to snap her photo.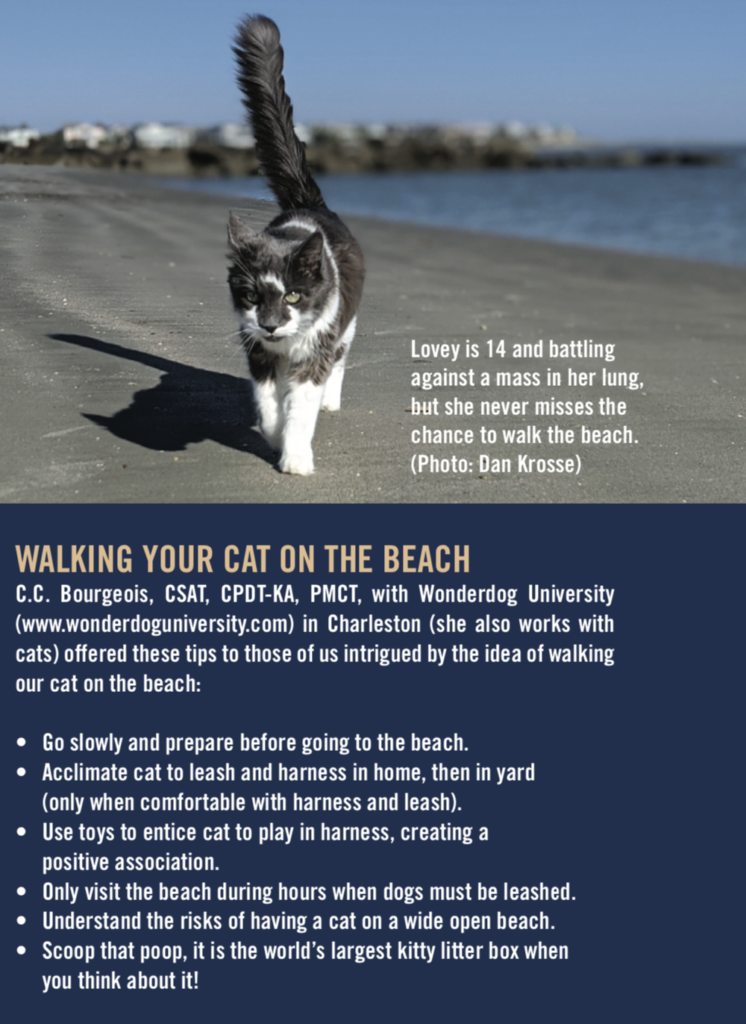 "If she knows I'm out here, she's out here," said Lovey's owner Samantha White. "She has no idea she's a cat. She thinks she's a dog!"
As Samantha swims, Lovey keeps a watchful eye from the sand. She doesn't like the water.
And despite a mass in her lungs, Lovey continues her daily walks on the beach with Samantha and her boyfriend Dean Feltmann. Samantha says she wouldn't have it any other way, "Sometimes the winds are so strong, I'm afraid Lovey will blow away, but you have to let your animals live life to the fullest."
ACROSS THE HARBOR
All this got me thinking. Are there other cat walkers out there? Will cats one day outnumber dogs on the beach?
Meet Jessica Lichty and Lonny Selego. Their pack includes 5 dogs and 4 cats – but one cat stands out in this story — Link.
Found behind a chain-link fence in Columbia, Link is now living the life, with regular walks along Folly Beach, across the harbor from Lovey's beach. On a whim, Jessica put Link in a harness and Link took to it right away. It was Lonny who suggested a walk on the beach, which Jessica was a little worried about, "I said, 'Lonny you're crazy! There are waves and dogs and craziness!' But Link loved it all."
THAT CONFUSED LOOK
Jessica says one of her favorite parts of her walks with Link are the looks on people….and dogs' faces.
"People and dogs are always confused. They're like, 'Wait, is that a cat?!' Link will try to walk up to the dogs and if allowed, he will head butt them and rub on them. He loves dogs," Jessica said.
Jessica says she goes to beaches where dogs are supposed to be on leashes and says there's never been an issue.
Link does put his toes in the water, but Jessica isn't stopping there. She's hoping he'll be paddle boarding with her by the end of next summer. We'll keep you posted.