Charleston Animal Society evacuates hundreds of animals this hurricane season.
By DAN KROSSE
Photos ALDWIN ROMAN, DAN KROSSE, KAY HYMAN, DEVIN TEAGUE, KARA THOMPSON, ASHLEE ROSADO
The guiding principle during hurricane season at Charleston Animal Society comes from a saying that dates back centuries, "...hope for the best and prepare for the worst."
This hurricane season, which doesn't end until November 30th, roared into the Lowcountry right on time this Labor Day weekend with Hurricane Dorian.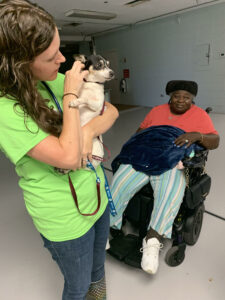 Setting the Plan into Motion
Well before the schools shut down and windows were barricaded, Charleston Animal Society had already swung into action with its emergency plan that includes evacuating animals out of harm's way. The plan is set into motion whenever a hurricane may be targeting the Southeast United States.
Before Dorian's winds died down in the afternoon of September 4th, 332 animals had been evacuated or transported with the assistance of Charleston Animal Society.
"We are the lead emergency responder for animals in South Carolina and the leading emergency responder for the Southeast I-95 corridor," said Charleston Animal Society President & CEO Joe Elmore. "We work with partner organizations around the state and country to place evacuated shelter animals out of harm's way in anticipation of any hurricane that may hit."
Charleston Animal Society also had a veterinarian visit Charleston County's pet-friendly emergency shelter during the storm to check on animals that stayed there with their owners.
Managing Chaos
As Elmore will tell you, managing hurricanes is about "managing chaos." As the forecast for Dorian kept wobbling, Charleston Animal Society did its best to stay ahead of predictions. First, almost 200 animals were brought to Charleston and then relayed on to other shelters in Pittsburgh and the Upstate for adoption.
Then, as the storm made a beeline for Charleston, animals here were relayed through Georgia to the Panhandle of Florida for adoption there. "In the end, we moved 300 animals to safety and we stand prepared to do it as needed in the future," Elmore said.
Last year, after Hurricane Florence dumped several feet of rain on the Pee Dee region of South Carolina, Charleston Animal Society went there to help shelters evacuate their animals. "This is the 5th year in a row we have had to engage our emergency plan," Elmore said.