In February, Charleston Animal Society went on high alert after a group lobbying for the carriage tour business in Charleston made a threatening post against Charleston Animal Society on Facebook.
"We made the decision to increase security at our animal care campus," said Charleston Animal Society President and CEO Joe Elmore. "Safety for our staff, volunteers and the people who come visit us at the shelter is always our top priority."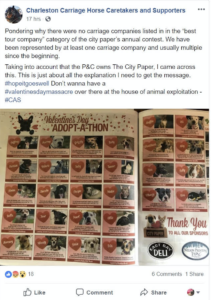 The February 13th Facebook post by Charleston Carriage Horse Caretakers and Supporters criticized a Valentine's Day adoption ad and then wrote,"#hopeitgoeswell Don't wanna have a #valentinesdaymassacre over there at the house of animal exploitation – #CAS."
The threat came on the same day that a carriage worker was arrested and charged with the assault of 72-year-old Ellen Harley, who founded an organization that advocates for Carriage Horses. Harley is also a board member of Charleston Animal Society. John Gordon Polk is charged with simple assault in the case.
"These kinds of threats have no place in the ongoing debate over carriage tours in Charleston," said Elmore. "These actions will not stop our advocacy on behalf of working horses and mules in downtown Charleston."