By JOE ELMORE, CHARLESTON ANIMAL SOCIETY PRESIDENT AND CEO
On a Sunday evening, July 20th, a carriage horse "tore down the street" while dragging a carriage. The horse was injured in what the City called a "preventable" incident. The carriage company made the decision to euthanize Ervin the horse.
Charleston Animal Society called for a full investigation as it did with the same carriage company five years earlier when another horse, Blondie, lie helpless on a downtown street in the July sun for nearly three hours. The purpose of these investigations are two-fold: (1) explore how these incidents can be avoided in the future and (2) determine how to effect a better response should they happen again.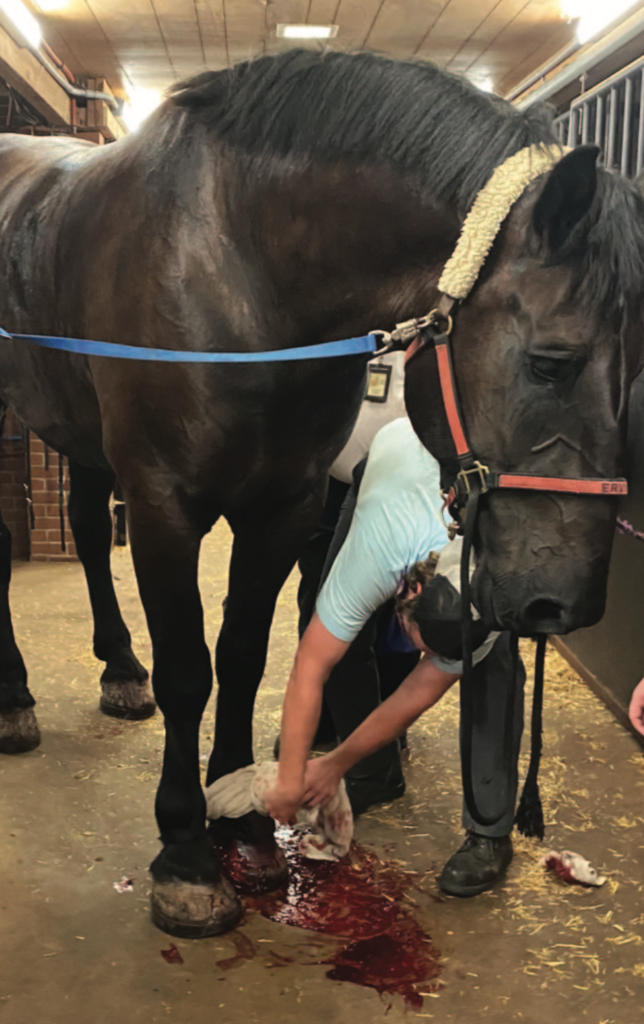 According to The Post and Courier's interview with a City representative concerning the recent Ervin incident, "There's no violation of the tourism ordinance for the incident that occurred. If the amendment we proposed was already in place before the incident took place, they would have been (found criminally negligent)."
This is disturbing, especially since structured safety training and additional measures were recommended five years ago after the Blondie incident.
Yet here we are again with runaway carriages (actually, wagons). It's all too common in Charleston, which is home to the harshest working conditions in the country for its "animal drawn vehicles." This most recent incident prompted numerous calls from citizens and witnesses (who apparently were not interviewed; only carriage company staff were interviewed according to City officials) expressing shock, anger and helplessness about this incident and others.
SOLUTIONS
The Animal Society supports all measures to increase safety for both people and horses as both have lost their lives in this tourist enterprise. For years, the Animal Society has recommended an independent, peer-reviewed, prospective, scientific study of the carriage horse enterprise so that science guides the regulatory oversight needed for comprehensive reform. This study could help make necessary changes to protect and save horses, such as Ervin, before another tragic incident occurs.
Today, we continue to see:
• Horses working in temperatures well above 95 degrees,
while the public is told horses are pulled at that temperature. (The devil is in the details on this one!)
• Horse carriages systematically running stop signs and pulling into streets obstructing crosswalks and oncoming traffic.
• Horses appearing tired and spooked in the downtown hot and noisy environment.
•The absence of a documented, comprehensive safety training program for drivers.
While the City reacted with a specific ordinance amendment addressing the cause of Ervin's injury, a more complete safety ordinance has been introduced by Charleston Carriage Horse Advocates (CCHA) to City Council with endorsements from the Preservation Society of Charleston, Charlestowne Neighborhood Association, Historic Ansonborough Neighborhood Association, the Preservation Society of Charleston and Charleston Animal Society, to name a few. This more effective ordinance addresses the risk of bodily injury that animal-drawn vehicles pose to residents, visitors, industry employees and the working animals. If enacted, this comprehensive safety ordinance would ensure the industry operates commensurate with the minimum standards required by other jurisdictions or for commercial operators in industries that also use Charleston rights-of-way. The goal here is not to be overly technical but, instead, to pose common sense requirements that represent the minimum the City should require of the carriage industry.
WHY NOW?
As the recent incident resulting in the euthanization of Ervin underscores, the risk of runaway and spooked animals is ever- present. Draft horses spook easily and are not accustomed to working in urban environments. Given this backdrop, it is always appropriate for city leaders to think proactively about addressing the risk of runaway animals, rather than waiting for inevitable calamities to occur and then look back wishing it had done better.
The carriage industry's arguments on safety typically fall into two camps, both of which are easily dispelled.
First, the industry argues that it is perfectly capable of regulating itself and there is no need for additional governmental intervention. This is a common refrain of any industry that does not want additional regulation. Even so, assuming that there are members of the industry that are meeting and exceeding the duties proposed by CCHA to minimize hazards, it is important that 1) every member of the industry adhere to the same requirements, 2) city officials have a mechanism to ensure compliance, and 3) in the event an accident occurs, the city is equipped with an ordinance that allows for appropriate after-the-fact penalties and corrective action.
The amendment passed by City Council in response to the Ervin incident was a minor tweak to the overall city ordinance to prescribe a hitching/unhitching protocol—a common sense procedure that operators would have undoubtedly claimed they followed before the latest incident. Most of the industry via the Charleston CARES consortium has expressed its support for the amendment, representing their agreement that it is appropriate for the city to memorialize common-sense safety requirements in the ordinance.
Second, the industry argues that accidents — and specifically, runaway animals — occur so infrequently as to present an immaterial risk to the public. Not so. CCHA has concluded based upon a review of FOIA documents from the city that there have been at least seven runaway animals in the past four calendar years, in addition to an incident where a child fell from the rear of a carriage onto East Bay Street, for a total of eight incidents that would be addressed by its proposed ordinance. This does not count the additional myriad incidents involving other employee injuries and damage to personal property, nor the history of runaway carriages that includes multiple additional injuries and an innocent bystander's death.
The CCHA ordinance is designed to meet the immediate and ongoing public safety risk that animal-drawn tours present in Charleston. It is not designed to put the industry out of business or stop the industry from operating. Reducing the likelihood of a major accident will, if anything, benefit the entire industry by creating competitive fairness by requiring that every operator meet certain minimum standards and avoiding the public-relations fallout from each accident that injures consumers and the public.
This is a simple, but comprehensive, safety ordinance that addresses issues commonplace in business. It does not address the working conditions of animals on Charleston's streets. Additional changes to the current ordinance are needed through ongoing reform driven by science to address new temperature, rest, load, and other standards. However, improving safety will hopefully minimize the risk for animals as well as residents and visitors.
Charleston Animal Society encourages City Council to fully address these continuing runaway carriages and other related incidents that harm people, animals and property.
At the end of the day, a horse suffered and died, but did not have to.
We can and should do better.