By ALDWIN ROMAN, CHARLESTON ANIMAL SOCIETY CHIEF STRATEGY OFFICER
When I hear someone say, "Dogs belong in your house, sleeping on your bed, not on a chain," I pause and think, "I wish it was that simple."
44 fences serving 92 dogs later, let me explain.
Charleston Animal Society started Pets for Life in 2014. This involved doing door to door outreach in the most underserved neighborhoods in North Charleston. We started by just talking to people about their pets and offering free basic veterinary services and transportation for spay/neuter appointments.
We knew there were families who wanted services for their pets that they just couldn't provide. We worked to build a bridge between communities that have no access to grocery stores, pet stores, veterinarians, pharmacies, or doctors. We knew that in these areas, we could offer services from Charleston Animal Society.
We thought and still think, that maybe, just maybe, if we can help support a family's pet, it might let off the pressure just enough for them to breathe.
Breaking the Chain
We quickly realized accessible and affordable veterinary care helped but we could do more. We found lots of dogs living on chains, more often than not out of necessity.
When you are faced with one of the highest eviction rates in the country you don't want to take a chance with your landlord by putting a pet inside – if you are even allowed to have a pet inside at all.
We also saw multi-generational households with the young caring for the elderly and sick. Having a large dog inside when you have three generations living under the same roof sometimes just isn't possible. Our naïve thinking that we could convince families that "all dogs should live inside" was quickly washed away when we digested what it means to live in systemic poverty.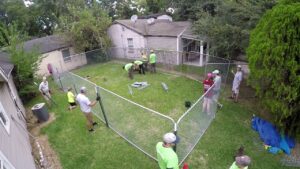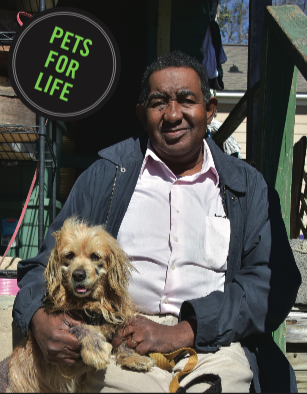 Fences for Dogs
Then it came to us -- if the dogs can't come inside maybe we could improve how they live outside. We started by replacing chains with tie-outs. We bought rolls of vinyl-coated wire and built tie-outs to match each dog and each family.
Then we started replacing tie-outs with trolley systems so dogs had the ability to explore larger areas. Then we took the leap. We found a fencing manufacturer (Brute Enterprises) willing to give us a deal and sponsors and donors willing to support our efforts.
We built our first fence for Poppy and the Strong family in July of 2016. A little over three years later we just finished building a fence for our 44th family. And since families rarely have just one pet, that's 44 fences for a total of 92 dogs!
The fences we built have had a much larger impact than we could have ever imagined. We were pet focused at first -- happy to see a dog off a chain and into a play yard large enough to run in. Our smiles grew as we saw dogs that had displayed aggression on a chain -- turn into teddy bears once inside the fence.
Then we learned how it impacted families.
Kids who had never been able to play fetch before out of fear of getting tangled in a chain or wire were now able to play with their dog. We would stop by to check on fences and find someone from the family sitting in a chair inside the fence, just sitting with their dog. We thought we were helping dogs but really we created a safe place for pets to be appreciated and loved.
We are helping families grow stronger. Maybe we can't release all the pressure of systemic poverty, inequality, resource deserts, housing discrimination, and more. But something as simple as a fence was now an instrument to let love grow. We have built a momentary distraction, a place of peace for 44 families, 92 dogs, and many more to come – all thanks to you and your support of the Pets for Life Program at Charleston Animal Society.
The Pets for Life program has expanded to rural areas of Johns and Wadmalaw Islands, Hollywood, Ravenel, and Edisto Island. If you would like to donate, please give at CharlestonAnimalSociety.org.