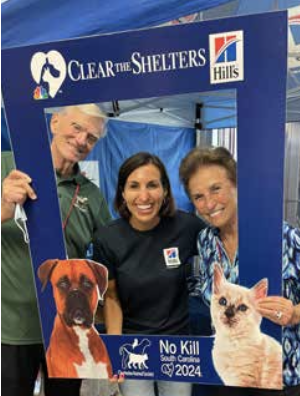 BY DAN KROSSE
Charleston Animal Society and shelters across the state participated in the NBC Universal and Hill's Pet Nutrition sponsored "Clear the Shelters" event August 23 – September 19.
A total of 545 animals at Charleston Animal Society found new, loving homes. Every adoption included a goody bag from Hill's with coupons and supplies, as well as a bag of Hill's Science Diet Food.
"The timing for the Clear the Shelter event could not have been more perfect," said Charleston Animal Society Chief Lifesaving Officer Pearl Sutton. "For much of the summer, shelters across the state faced a state of emergency with overcrowding and this event helped tremendously."
Charleston Animal Society's Clear the Shelter participation peaked on September 18 when 126 animals were adopted in one day. Thanks to Board Members Hank and Laurel Greer, all the adoptions were sponsored! Count on 2's Carolyn Murray (who is also a Charleston Animal Society Board Member) was at the shelter for live reports.
A line of people waiting to adopt formed outside before the doors opened and never stopped. "To say that Charleston Animal Society's event exceeded all of my expectations would be an understatement," said Hill's U.S. Marketing Director Caroline Chulick.
Local businesses also stepped in to make the Clear the Shelter event at Charleston Animal Society festive. Local sponsors included: Lodi Coffee, Krispy Kreme West Ashley, East Bay Deli, PostNet Mt. Pleasant and Cupcake DownSouth.
Above right: Board members Hank and Laurel Greer surround Hill's U.S. Marketing Director Caroline Chulick. Below: Nikki Anderson, Asa and Alana Cassell were thrilled with their new kitten, one of 545 animals adopted at Charleston Animal Society during Clear the Shelters.