The Better Business Bureau (BBB), serving the Midlands and the Lowcountry, honored Charleston Animal Society with the 2021 Large Business of the Year Torch Award.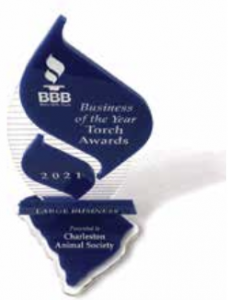 The mission of the BBB is to create an ethical marketplace where buyers and sellers can trust each other. In this spirit, BBB Business of the Year Torch Awards nominees are scored by a panel of judges according to their commitment to the community, ethical business practices, and leadership practices to unify the organization.
"Our team goes to great lengths to run an open and transparent organization," said Charleston Animal Society President and CEO Joe Elmore. "We are honored that the Better Business Bureau has recognized our lifesaving efforts and business practices."
The Torch Awards are open to all for-profit and nonprofit businesses located within the Lowcountry and Midlands regions. A panel of judges from SCORE reviewed the entries and chose the winners. SCORE's mission is to foster vibrant small business communities through mentoring and education.
Charleston Animal Society received the award in a ceremony held in Columbia on November 3rd.
"This is always an inspiring event", said Chris Hadley, President and CEO of the BBB serving Central SC and Charleston. "BBB is especially pleased to highlight the outstanding work of our Business of the Year Torch Award Recipients."