Garden created in honor of beloved donor and volunteer Maria Panella
Celebrity Cat Expert Jackson Galaxy joined Charleston Animal Society in the dedication ceremony for the Maria Panella Cat Enrichment Garden Wednesday, March 23rd. Galaxy spoke at the event, saying he was truly inspired by the garden and what it will mean for shelter cats.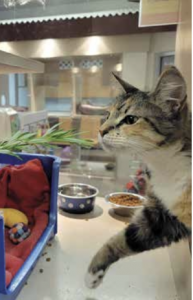 By partnering with the Master Gardeners at Clemson University, Charleston Animal Society created the garden at the entrance of the shelter. Now behavior staff and volunteers at the shelter have a variety of herbs and plants at their fingertips to help keep resident cats mentally stimulated and physically engaged through scent enrichment.
Cats love rubbing their faces on carpet or socks sprinkled with dried or fresh catnip or mint. Utilizing herbs like lavender not only provides a structured activity for cats but also helps to calm frightened animals.
"We have a volunteer dedicated to bringing cat items from the garden," said Charleston Animal Society Behavior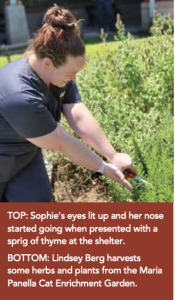 Team Manager Donya Satriale. "When the cats receive these herbs, they absolutely love them." 
By eating small amounts of freshly grown lemongrass, cats benefit from the activity of chewing. Sunflowers, zinnias, snapdragons, and gerbera daisies are also safe for cats and can be grown in the garden. Keeping cats busy with physical activities like gnawing, scratching, and sniffing helps them stay mentally engaged and stable while the shelter works to place them in homes.
This enrichment garden was installed to honor Maria Panella, a marvelous volunteer, and donor who loved saving the lives of cats.