By Sarah Baskin
From a single glance, it is clear that Archie is a gentle soul. His playful trot across the beach–tail wagging, tongue lolling–paints a perfect picture of the friendly character he has become over the years. However, despite his happy-go-lucky demeanor, the first year of Archie's life was not so easy. Rescued from a case of neglect in 2009, Archie was given up to a shelter in Indiana at just 11-months old. His naturally energetic, boisterous nature was stifled, rendering him scared and shy. Little did he know that several states away, someone special had just stumbled upon his face online.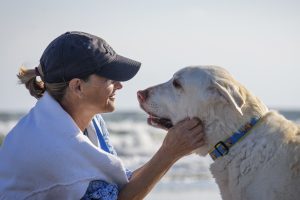 A SPONTANEOUS CHOICE
Sometimes all it takes to change your life is a simple Google search. Wendy Gilder discovered this with three words: "Adopt a lab." Upon the loss of her previous companion, something she would call "divine intervention" pushed her to adopt from an animal rescue for the first time.
It was fate that the first dog she saw was Archie. Like love at first sight, Wendy saw Archie's profile on the shelter's website and immediately thought: "That's my dog." At the time, Wendy lived in Connecticut, but she was not about to let that come between her and Archie. So, she hopped in the car, and after 14 long hours, she and Archie were able to meet in person for the first time.
His fear was immediately apparent: Archie crawled on his belly out of his kennel to meet Wendy and showed signs of very little self-confidence. However, Wendy saw past that fear and trepidation and couldn't wait to bring Archie home. He was afraid of the car at the start, but they drove through the night back to Connecticut. Upon arriving at five in the morning, Archie immediately hopped into bed with Wendy, and she knew at that moment that he was going to be a great fit. 
The months and years following Archie's adoption were full of improvements for his social skills and overall quality of life thanks to the love and care of the Gilder family. Wendy was able to spend a great amount of her time with him, and his true happy, friendly personality began to outshine his once immobilizing fear in no time. Archie would accompany Wendy to her business, and he would greet everyone–human and dog alike–with a friendly wag of his tail. Time, trust, and some TLC made him well and truly an indispensable member of the family.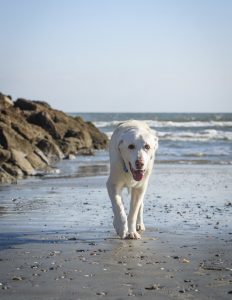 ARCHIE COMES TO CHARLESTON
In 2015, Wendy achieved a longtime dream and moved to Charleston with Archie. Wendy said it was surreal to see Archie proudly walk the streets of the Holy City. Now, the family lives on Folly Beach where Archie can go for long walks along the shore to his heart's content. 
For Archie, Wendy was a safe haven after the struggle he had endured. A loving home. A happy ending. For Wendy, Archie was the beginning of it all. 
Since adopting Archie, Wendy has gone on to foster dozens of dogs and find loving homes for countless others. Archie helped her realize that she wanted to help more dogs like him and more people like her–she wanted to make stories like Archie's happen again. Wendy began by volunteering at animal rescues, and she now focuses on matching adoptable dogs in southern shelters with adopters in New England.
Overall, Archie has been a source of inspiration for Wendy. When aiding in the progress of other dogs' journeys to new homes, Wendy shared a bit of advice she learned through Archie: "It's important for people to keep their hearts open and give a dog a chance."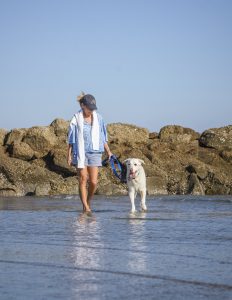 THE DAYS AHEAD
Nearing 15 years old, Archie enjoys a full, relaxing life only interrupted by a case of well-managed arthritis. Archie never fails to bring a smile to the faces around him–and a tail wag from his furry friends. While he may never know how much of an impact he has made on Wendy and others around him, Archie has undoubtedly been a symbol of success for anyone thinking of rescuing an animal. Simply put, though, Archie is a happy dog, a loving companion, and an invaluable member of the Gilder family.