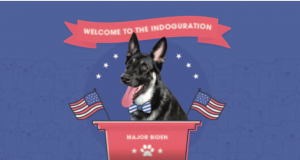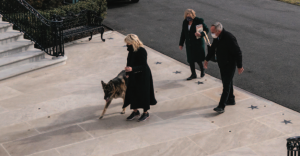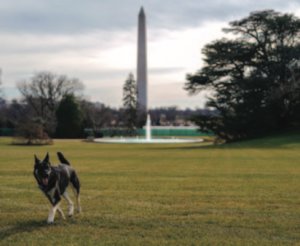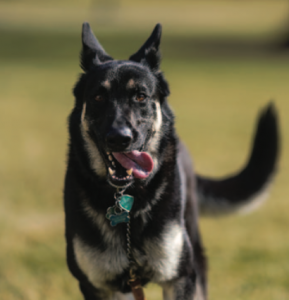 ON SUNDAY, JANUARY 17TH, THE DELAWARE HUMANE ASSOCIATION (DHA) HELD THE INDOGURATION OF MAJOR BIDEN, THE FIRST-EVER SHELTER PUP TO BECOME FIRST DOG.
President Biden initially took Major in as a foster dog, before officially adopting him in 2018. Major is now romping together with his brother Champ at the most prestigious address in America, 1600 Pennsylvania Avenue in Washington, D.C. Major is the first shelter dog to ever call the White House home.
7,400 ATTEND VIRTUAL INDOGURATION
The Indoguration, emceed by NBC News' TODAY's Jill Martin, celebrated Major's journey from the DHA shelter to The White House in an effort to raise awareness around the importance of pet adoption and support more shelter animals like Major in finding loving homes.
With more than 7,400 attendees, including singer Josh Groban, the Indoguration raised an incredible $200,000 to support the DHA
"Our DHA Team is truly astounded by the love and support we have received, in honor of Major," says DHA's Executive Director, Patrick J. Carroll. "We celebrate each and every time one of the animals in our care finds its forever home, and this one calls for a special celebration!"
Champ has lived in the capital before. He became part of the Biden family in 2008, while Biden was Vice President.
As for life in the White House? Champ is "enjoying his new dog bed by the fireplace and Major loved running around on the South Lawn," according to a statement from the first lady's office.
WHITE HOUSE PET HISTORY
These two German Shepherds join a long history of dogs at 1600 Pennsylvania Avenue. In fact, only Presidents Donald Trump, James Polk and Andrew Johnson declined to have pets in the White House.
Presidents treat their pets like family. In 1944, Franklin D. Roosevelt turned ships around to find his Scottish Terrier Fala, who'd accidentally been left behind on the Aleutian Islands, off the coast of Alaska.
Criticized for using taxpayer money to save his dog – Roosevelt famously said, "you can criticize me, my wife and my family, but you can't criticize my little dog. These allegations about spending all this money have just made his little soul furious." The speech was a hit and Roosevelt was re-elected.