There's nothing like a happy adoption story to lift your spirits during these uncertain times in the world – which is how Pet Star Search was born.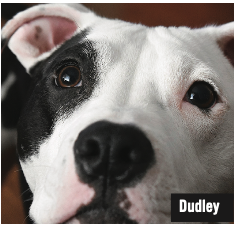 Last year alone 5,266 animals found new homes through Charleston Animal Society. Not all of the animals turning to the organization for help started out with happy stories. Many were lost or abandoned. Some animals were injured or abused.
We asked families who have adopted animals from Charleston Animal Society in the past to submit their "Happy Tails" to us along with a story on how adopting a pet has changed or improved their lives. We had hundreds of submissions and our staff had the tough job of selecting just 20 of the best stories to be the winners of our Pet Star Search.
By SEAN HAWKINS, CAWA AND KAY HYMAN

Dudley was hit by a car and luckily found by a caring animal control officer who transported him to Charleston Animal Society. The expert veterinarians and dedicated animal care staff surgically repaired his broken bones and provided the support needed for Dudley to heal. According to foster mom, Heather Jackson, "We just couldn't let him go! He's helped me cope through a few panic attacks. He loves all animals and people. Most importantly, Dudley makes us laugh, all the time."
Sweet little Maria was found alone and afraid as a baby kitten who weighed only 1.6 lbs. After receiving medical care by the expert veterinarians and caring staff at Charleston Animal Society, she was placed with foster mom, Julie Adams Lawrence, "Maria was my first foster kitten and she became my first foster failure. We love her so much and we are so thankful for everything that Charleston Animal Society does for all the love they help bring into people's lives!"
Reese's mom, Brenna Rich, sent us this amazing note: "Hi, my name is Reese and at first, I was super scared. I didn't know how to trust anyone. Mom and Dad worked with the veterinarians and behavior specialists at Charleston Animal Society to help me feel safe in my new home. They even adopted a boxer named Duncan to keep me company! I wouldn't be where I am today without all the awesome people at Charleston Animal Society who found the perfect family for me!"
Pepper arrived at Charleston Animal Society suffering from tremendous hair loss. He was diagnosed with ringworm and the veterinarians and animal care team treated him for over a month at the animal shelter. According to his new mom, Tiffany Perez, "I had never owned a cat in my life, but I knew I wanted to open my heart to a new addition. My two dogs and I love him so much! He's so sweet and cuddly with a dash of spice –that's why I call him Pepper! "
Finn was found as a tiny puppy, alone and covered in fleas. At the same time, Caroline Evangelista Harbeson had recently lost her two senior dogs. When Caroline visited Charleston Animal Society, Finn chose her as his person. From the moment he was adopted in September of 2012, he has not left Caroline's side.
"This beautiful boy is Latte. He was adopted on New Year's Eve 2010 to help heal my broken heart after our family lost our other sweet Charleston Animal Society rescue exactly a year earlier," reports Amy Guerry Rogers. "Latte has been an awesome companion. He is so easy going and friendly and comfortable around everyone…and those blue eyes are enough to melt your heart." We could not agree more!
Found as a stray on the streets, Winky was suffering from a severe upper respiratory infection, which scarred her eye to the point it had to be removed. Cara Lanphere, her adopting mom, took her home in December and says, "Winky is just the cutest thing and loves attention and play. Winky is also my senior dog's best friend."
At 12-years-old, Poppy is considered a senior dog. He was rescued from a puppy mill operator by Charleston Animal Society. One look at that sweet smile and Alexa Blackburn, Poppy's adopting mom, knew that Poppy was the one for her. Poppy went to his second chance home in February and Alexa will tell you he's brought nothing but joy and happiness to her life, "He's a happy pup who is full of energy and being 12 does not slow him down one bit!"
In 2013, Marcy was featured on ABC News 4 as our Pet of the Week. Tom Welsh and his wife crossed their fingers as another family first looked at Marcy. Tom reports, "We were immediately greeted by the most enthusiastic wrinkled face I've ever met. She was so proud to show off her toy that she had been carrying around the room. She only put the toy down to jump into my lap for a hug and kisses. At that moment I knew I had to have her."
Susie Q was left behind in an abandoned home to fend for herself by her former family. Her second chance family realized that she never knew how to play with toys and did not trust people, but now she is growing more affectionate by the day. According to her new dad, Marco Michel, "Susie is obsessed with water and sits by the sink mewing until we turn it on for her. She is also fascinated with the toilet and will flush it by herself!"
After losing her sweet lab Ruby, Kimberly Reed visited the shelter six times, looking specifically for a yellow lab. Then she met Cooper, a sweet black lab mix. Cooper was found wandering on John's Island, heartworm positive and very thin. When his eyes met Kimberly's, it was love at first sight. Almost a decade later, Kimberly reports, "In the nine years we have had together, we have been on many adventures and he has been at my side to see me through some tough times."
After searching for months for a lost kitty, Robin Pawlikpowski finally gave up and started looking for a new feline. She fell in love with Bill, a beautiful tuxedo kitty who had been featured on our ABC News 4 adoption spot. His inquisitive personality, and sweet disposition won her over. Robin shared with us, "Bill wraps himself around our foster cat and purrs loudly to calm her, which works. He wrestles our dog and has become my favorite friend to read books on the patio with."
Rose was brought to the animal shelter by a good Samaritan. She was missing hair and crawling with fleas. Rose was very timid and shy. Taylor Dunlap adopted her in May of 2019 and just celebrated her "Gotcha' Day." Taylor reports, "It didn't take long for her spunky, loving, crazy personality to come out. Rose loves being on the water, playing with her toys and getting belly rubs. She keeps a smile on everyone's face. I am so grateful that I found her that day!"

In March of this year Riley Peterson and her boyfriend were looking for a quarantine buddy due to COVID 19. Her boyfriend wasn't completely on board with adopting a pet until he saw Maple. Riley tells us, "Maple is as sweet as she looks. She loves walks and playing with our kitty. She came into the shelter skinny, heartworm positive, with scars and hair loss and left with a new family and sister. Her favorite thing to do is cuddle her stuffed monkey."

When Tiny's Mom Amy Badeaux laid eyes on this cat, she knew right then and there she would take her home. Tiny was disfigured because she had been caught in the fan belt of a truck. Lucky for Tiny, the expert veterinarians at Charleston Animal Society were there to help and her mom was willing to give her a home. Amy says, "I am so happy that you guys took the time to help Tiny because the best thing we did is adopt her into our family."
Moses was surrendered as a young puppy because his family couldn't afford to give him the veterinary care he needed. He was covered in mange and suffering from skin infections. After recovering in a foster home, Moses is now "on the go," living the trucker life with his new dad, Troy White. They truck all across the country. Troy says, "I did not realize what I was missing until Moses came into my life; I had not shared my life with a dog in over 25 years."
Since adopting Peanut, aka, "the Nut," Jessi discovered that she loves kids, fruit and vegetables but hates storms. Jessi wasn't planning on adopting a dog when she accompanied a friend to the animal shelter. "We went to meet a specific dog, and this good girl was in the next kennel," Jessi tells us. "It was love at first prance. I think she is part woodland creature. She hops and prances when her people come home or when she wants to play. She completes our little family."
After getting married and moving into their new home, the McGuan family was ready to adopt. Within five minutes of arriving at the animal shelter, they knew that Shelby was the dog for them. Shelby was a stray who was extremely skittish and terrified at the shelter. Her new mom rode in the back seat holding her as she trembled the whole way to her new home. Within three days she was completely relaxed and now loves having a family of her own.
In golf, Mulligan is a "second chance." And that's exactly what Kathleen Flynn gave a puppy whose mother gave birth at Charleston Animal Society. Kathleen had graduated college and started her career in Charleston. Family and friends encouraged her to consider adopting a dog to keep her company, despite the fact she'd never had a dog growing up. On a spontaneous visit to the shelter, Kathleen met Mulligan and now she and her lab/spaniel mix are inseparable.
Kona and Bentley had the same path to the shelter but years apart. Both were owner surrenders because their families at the time could no longer care for the dogs. Shelly Goughnour adopted Kona in 2007 and as he aged she knew she wanted to rescue another animal in need. In 2019, Shelly adopted Bentley at a Charleston Animal Society pop up event downtown. Shelly says, "Both Bentley and Kona have brought unconditional love into my life and I have no doubt the saying 'who rescues who?' rings true."
Sean Hawkins, CAWA, is Charleston Animal Society's Chief Advancement Officer. Kay Hyman is Charleston Animal Society's Director of Community Engagement.